Tamil poet, Irish violinist marry music
"Colm O'Riain is an Irish violinist. Pireeni Sundaralingam is a Sri Lankan Tamil poet. They're married and have created a unique music that sounds out their common experience of exile and immigration," writes VoA news, adding shared history from British colonialism, and experiences surrounding living in islands surrounded by large oceans allows the couple to mesh the two art forms.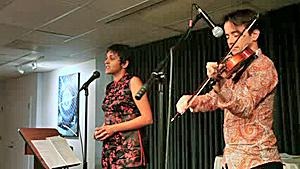 Couple performing together
The couple has performed at the English National Theatre in London and the UN Headquarters in New York as well as at arts and literary festivals around the world, VoA adds.
"Pireeni's poetry is naturally lyrical, and the basis of all lyrical poetry is music," says O'Riain. "And I grew up in Ireland where there's a very strong poetry movement."
"It was once said that every poet lives as an exile within his own language, and to write poetry that you have to look at the world sideways on, to feel slightly at odds with the world, to look at things with fresh eyes," says Sundaralingam.
From that common colonial experience grows a song and poem called "Celtic Raag," in Tamil, Gaelic and English:
"If I could choose the language in which I spoke to you,
I would chose the dark, red tongue of the Tamil Lands,
the yearning notes, the desert drone,
the heated hum of the monsoon rising.
If I could choose the language in which I spoke to you,
I would choose to speak in Gaelic,
the sliding scale, the sussuration of breath,
The sound of water beating between us."
The two have released a CD called "Bridge Across the Blue," which brings together musicians and writers from different ethnic traditions to tell the immigrant stories of America, writes VoA news.
(For updates you can share with your friends, follow TNN on Facebook, Twitter and Google+)