China urged to play constructive role in the island: Prof Sitrampalam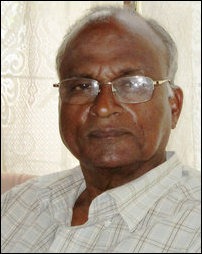 As a super power having influence on the Sri Lankan state, Eezham Tamils urge China to play a constructive role in the island of Sri Lanka, says Dr. S.K. Sitrampalam, the vice president of Ilankai Thamizh Arasuk Katchi (ITAK), the main constituent of the Tamil National Alliance (TNA). The retired senior professor of Archaeology of the University of Jaffna recently visited China following an official invitation to the ITAK to take part in an organised trip extended to delegations from selected political parties from South Asia to have an exposure of how the Chinese government deals with its internal and external affairs.
During the trip, the Chinese government intended to display how the Chinese were able to achieve development by allowing and accommodating the various ethnicities to safeguard their interests, preserve their unique heritage and achieve, as a result, the Chinese development, the academic politician said.
But, the SL state has failed to bring in a political solution to the ethnic question even when 22 months have elapsed since the claim of the government that the war has ended.
The resolution of the ethnic question in peaceful and dignified ways would strengthen the regional harmony and stability. This would in turn benefit China as a power in Asia, the emiratus professor of the University of Jaffna further said.
From February 21 till March 04, the delegations from the political parties of several South Asian countries took part in the organised tour as the guests of the Chinese government. This was the first time an Eezham Tamil political party had been invited.
Kandiah Sarweswaran, a brother of Suresh Premachandran MP, also accompanied Dr. Sitrampalam to China.
(For updates you can share with your friends, follow TNN on Facebook, Twitter and Google+)