DMK, allies woo Vaiko, want him to join polls – Deccan Chronicle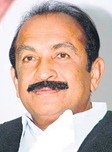 MDMK chief Vaiko on Monday got an 'emotional' call from Karunanidhi to join hands with parent DMK party "to make the coming victory easier and to share the enjoyment".
The statement from the DMK chief, which does not name Vaiko directly but refers to 'brothers separated by minor differences', clearly aims at winning the support of MDMK cadres even if Vaiko remains unimpressed.
Mr Karunanidhi, in his inimitable style, referred to Vaiko as Indrajit, the son of Ravana in the Ramayana, who has been hailed as a hero by Dravidian admirers. "I gave some thought since I cannot find Indrajit in the rival camp, which is ready for the battle," he said.
"We should end the sorry saga of Dravidians falling apart. Those left out, expelled and chased away should unite. I make this appeal not because my brigade is weak to take on opponents, but to make my team still mighty," he said.
His confidant and DK president K. Veeramani and ally VCK chief Thol. Thirumavalavan also joined in the chorus. Describing Vaiko as a victim of 'Aryan ploy,' Mr Veeramani, in an open letter, asked him to take a bold decision and revive ties with the DMK, which would be ideologically sound.
"Being a rationalist, you should think of the future. A political party should not boycott an election. You should support the DMK alliance. We should see that Mr Karunanidhi becomes the CM for the sixth term, with whom you can argue for anything," Mr Veeramani insisted.
(For updates you can share with your friends, follow TNN on Facebook, Twitter and Google+)