Indian fishermen seek more time to stop fishing in Sri Lankan waters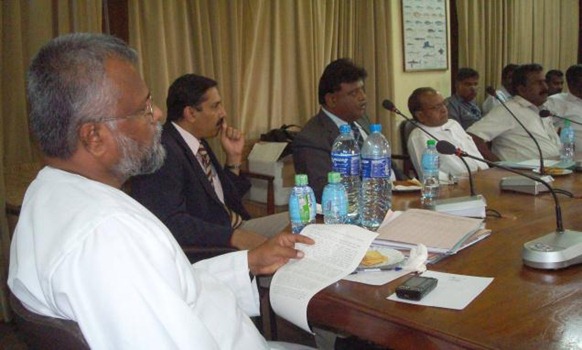 A delegation of fishermen from Tamil Nadu pleaded with their counterparts from north Sri Lanka to give them more time to stop fishing in the Sri Lankan territorial waters at a meeting here on Tuesday.
The Sri Lankan fishermen, who also speak the same language, said they were in no position to grant such a concession. The meeting ended with both sides holding on to their stated positions. There was no meeting point.
The Tamil Nadu fishermen said they were being trained by the Government of India and the fisheries development arm of the government, the Marine Products Export Development Authority (MPEDA), in tuna fishing. The fishermen from Pudukottai, Ramanathapuram, Rameswaram and Nagapattinam were willing to venture into deep-sea fishing and in the process of the learning tuna fishing and other deep- sea fishing techniques. Once this was done, they would not venture into the Sri Lankan waters.
Members of the Tamil Nadu delegation who spoke at the meeting, to which The Hindu was invited by the Sri Lankan side, wanted the Sri Lankan fishermen to give them more time: tuna fishing could not be learnt in a few days and investments were heavy. Hence, they wanted the Sri Lankan fishermen to be a little more patient and understanding. There were many other schemes of the Government of India.
"No fisherman wants to be killed. All of us are in the same situation. We all take loans, we all starve and we all go where we find fish," said Arulanandam, leader of the Tamil Nadu delegation. As much as 70 per cent of the fishermen were trained in tuna fishing.
Initially, the seven-member delegation expressed their views to the lone Tamil Minister in the Sri Lankan cabinet, Douglas Devananda. He told them that they should speak directly to their counterparts across the Palk Strait and come to some decision.
The Sri Lankan side was clear that they did not want the Indian fishermen in its territorial waters. "Allow us to live:" this was the general refrain by all who spoke. They had just begun fishing after a very long time and they did not want their resources to be laid to waste by bottom trawling, just as the Indians had done on the Indian side of the territorial waters. Representatives of fishermen from all the northern districts participated.
At the meeting between the two sides, Mr. Devananda made it clear that he was a mere observer. He wanted the two sides to meet and discuss to find out if a solution was possible. "I have heard the same argument on both sides. Let us not keep thinking about a distant future. Even the next moment is part of our future," he said.
(For updates you can share with your friends, follow TNN on Facebook, Twitter and Google+)