North was deprived for 30 years – Sangakkara
People of the north have been deprived for thirty years of everything that is taken for granted in Colombo, Captain of Sri Lankan cricket team Kumar Sangakkara told the media.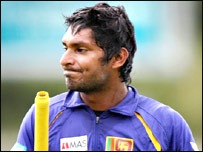 One of England's all-time cricketing greats, Sir Ian Botham, described post-war northern Sri Lanka as a scene of devastation after paying his first visit to the region.
Regeneration and reconciliation
But Sangakkara and Botham also spoke of their hope that the north could be redeveloped as prominent cricketers launched a community initiative to bring sports facilities to help regenerate and reconcile the communities there.
After his trip, which he made with the great Sri Lankan bowler Muttiah Muralitharan and the former England captain Michael Vaughan, Botham told the BBC of his shock at what he saw.
"The thing that struck me most was the devastation and the way that things have been flattened and the scars of war. There's nothing there. There's no infrastructure. Everything's gone. And it appears as the LTTE retreated, they took everything with them. And if they didn't take it they flattened it. That may not be completely correct but that's the way it looked" He said.
almost no water, electricity or other basics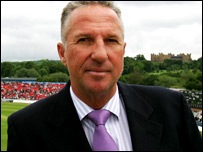 Sir Ian Botham said people now had makeshift homes but almost no water, electricity or other basics. The cricketers gave out some essentials to local people and showed them the beginnings of a new community centre which will teach sports to young people to spur recovery.
Muralitharan is a patron of the charity building it, the Foundation of Goodness. He told reporters that if he, as a Tamil, worked with a Sinhalese person playing or arranging matches, it would be a good sign of reconciliation. But if such initiatives didn't come, he said, there might be a danger of young people in the north taking up arms again.
"Financially we are not a very wealthy country. So we need help from Western world. Whatever small way they can help, with that help we definitely give some relief to those people and bring our country back to when it was in 50s and 60s".
Help the people
He said little video footage came out of the north so few people realised what the situation there was like.
Also backing the project is the national cricket captain, Kumar Sangakkara, who paid tribute to Murali's work in backing the Foundation's tsunami rehabilitation projects in the south. Moving its work to the north, said Sanga, could transform the area and help its people pull themselves up.
"They [the people of the north] have been deprived for 30 years of everything that we've taken for granted in Colombo. Sometimes Colombo seemed a world away from the war. We've never felt it as much as the communities in the North and East did. And sometimes we have to understand that we owe them our very lives and all the comforts we enjoy". said Sangakkara.
Kumar Sangakkara said such initiatives could help northern people to stay in the North and become self-sufficient there.
Sir Ian Botham said the Foundation's new project was already exciting the local Tamil young people, many of whom were dragged into the war.
"They were child soldiers. Today they had cricket bats and balls. And they loved it. They had a great time. There's some talent up there. Vaughany [Michael Vaughan] and I were quite impressed with some of the kids we saw. They were exceptional". He said
Bats and tennis balls bringing joy
Michael Vaughan echoed this. He said people in Western countries tended to complain if a train was 10 minutes late. Northern Sri Lankans faced far worse problems, yet bats and tennis balls were bringing joy into children's lives.
(For updates you can share with your friends, follow TNN on Facebook, Twitter and Google+)