Tamil Nadu elections 2011: who will benefit?
By Satheesan Kumaaran
A fundamental principle of democracy involves a competitive election with freedom of the press and civilian control of the military.  Other important aspects include political pluralism, equality before the law, due process, civil liberties, human rights, peace and elements of civil society outside of the government.  As such, the 14th legislative assembly election in Tamil Nadu, a province within the federation of the Indian republic, is scheduled for April 13, 2011.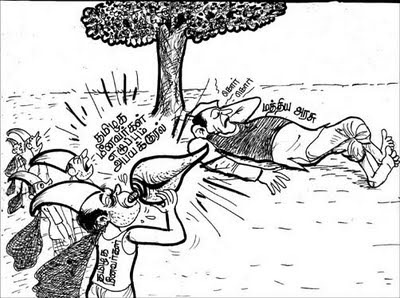 Elections in Tamil Nadu are conducted every five years to elect the State assembly and its share of members to the Lok Sabha of the Indian central government. There are 234 Assembly constituencies and 39 Lok Sabha constituencies.  Two allies are confronting each other, led by two regional Dravidian parties–Dravida Munnetra Kazhagam (DMK) led by M. Karunanidhi and Anna Dravida Munnetra Kazhagam (ADMK) led by Ms. Jayalalithaa.
Dravidian parties have been in power since 1967. The Indian National Congress party, which has been in power five times consecutively since the first assembly, was established in 1937.  After the DMK, led by Annadurai, popularly known as Anna (elder brother), took power in 1967, the Congress party never formed a government thereafter. However, they contested in the elections as allies of either DMK or ADMK. 
If the DMK wins, Karunanidhi will be Chief Minister for the sixth time and, if ADMK wins, Jayalalithaa will be the third-time Chief Minister.  At 87 years old, Karunanidhi hovers around in a wheelchair. His aides are always there to help him with every task, public or private, as his health does not allow him to perform his duties as before.  His motive is that, if his party wins, he may become the sixth-time Chief Minister and paves the way for his son, M.K.Stalin, who is now the Deputy Chief Minister, to succeed him.
Karunanidhi has groomed his son as political heir, while his other children also play active roles in politics. Another son, M.K. Alaghiri, one of the ministers in the Central government, is being sent to New Delhi.  His daughter, Kanimozhi, too, is a Rajah Sabha (Senate) member from Tamil Nadu.  Karunanidhi's wife and close relatives have built a great economic empire as they own various media outlets and other business establishments and they are one of the richest families in India. When he entered politics, he lived below even the poverty line by Indian standards. However through corruption, he managed to build his massive empire after coming to power.  The ADMK leader Jayalalithaa, too, has been involved in massive corruption scandals and jailed for them, but in politics memories are short as a maxim that Hitler went by. What is more, the Tamil Nadu people can be bought with political emotions and false sympathy.
Karunanidhi has an unfair advantage over his political rivals as he can seek voter support freely as a media magnate. In the last elections, he promised the voters free television sets and he offered them on conditions of subscription to his own channels.  In return, his relatives received enormous profits from their channels.  Having been involved in propaganda through Tamil movies in his early days, he knows how much the Tamil Nadu voters can be swayed by emotion, but these acts are merely a mirror of dictatorship under the guise of democracy through the one-sided media propaganda.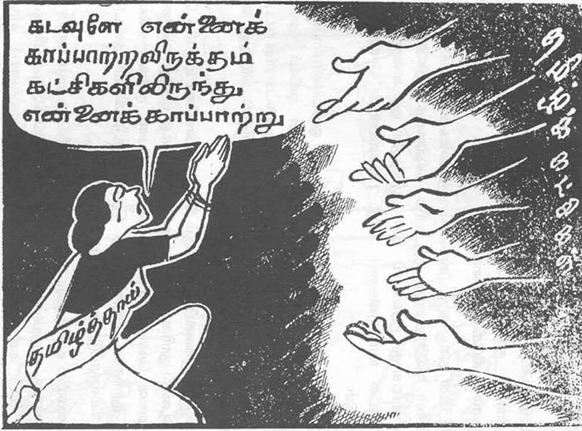 If the so-called democratic countries have branded Muhammar Qaddafi, Hosni Mubarak, Saddam Hussein, Kim Jong II, Than Shwe, etc., as dictators, why not the dynasties of Karunanidhi, Indira Gandhi, and Rajapakse ?.
Who goes with whom?
There is no permanent friend or foe in politics, especially in India. Parties with different mandates join forces with rivaling parties to defeat those opposed to their whims. Individuals with opposing views might join hands with any other political parties to hopefully to ride to power.  The parties opposing the DMK have now joined hands to defeat the ADMK allies.  Also, parties which have no common views with the ADMK have joined with the ADMK to defeat the DMK allies.  However, their unions are short because of their diverse political views, causing more rifts in loyalty and support.
Should the ruling party not secure a simple majority, 118 seats in Tamil Nadu, they must pay a ransom or reduce themselves to a minor political party. The ruling party assumes it has no choice but to offer many incentives to absorb the smaller parties with corruption flowing both ways. The issue is, how can these political parties work for the empowerment of their people? They have had plenty of time to sort out their own problems, as this has been an ongoing problem for decades.  And even if a party wins with a simple majority, they continue the never-ending culture of corruption. Either way, the people have traded their vote for a meal or a few hundred Indian rupees instead of what is best for the future of their country.
The international community overwhelmingly praises India's democracy, but in reality, the people of India enjoy very little democracy.  The rich become richer while the lower classes spiral downwards into further poverty.   The Indian GDP may show growth and a booming industry, but such benefits rarely trickle down to the average citizen. 
Political parties are joining forces.  One of the allies is led by the DMK in which the DMK is contesting in 121 constituencies, Congress in 63, Pattali Makkal Katchi (PMK) in 30, Viduthalai Chiruthaigal Katchi (VCK) in 10, Kongunadu Munnetra Kazhagam (KNMK) in 7, Muslim League in 2, and Moovendar Munnetra Kazhagam (MMK) in 1 constituency. 
The 10 party allies led by the ADMK, in which the ADMK is contesting in 160 constituencies, are Desiya Murpokku Dravida Kazhagam (DMDK) in 41, Communist Party of India (Marxist) in 12, Communist Party of India (CPI) in 10, Manithaneya Makkal Katchi (MMK) in 3, All India Samathuva Makkal Katchi (AISMK) in 2, Puthiya Tamizhagam (PT) in 2, Moovendar Munnetra Kazhagam in 1, All India Forward Bloc (AIFB) in 1, Republican Party of India (Tamilarasan) (RPI) in 1, and Kongu Ilaingnar Peravai (KIP) in 1.
The Marumalarchi Dravida Munnetra Kazhagam (MDMK), led by Vaiko, was a key ally of the ADMK since the 2006 assembly elections.  MDMK was given 35 constituency seats in 2006.
MDMK managed to win in 6 constituency seats and three of them joined with the DMK until a MDMK Member of Legislative Assembly (MLA) passed away and now the MDMK has only 2 members in the Assembly.  This time, the ADMK was willing to initially give only 6 seats. MDMK refused, so the ADMK offered 7 seats, then 8 seats, and the MDMK flatly denied to take it.  And then finally, the ADMK offered 12 seats.  The MDMK leader Vaiko flatly refused it as well, saying it was an arrogant attitude of ADMK General Secretary Jayalalithaa because MDMK wanted at least 21 seats.  Also, the MDMK ruled out the formation of a third front or of contesting alone. It said it would boycott the April 13 elections.
Justifying her party's stand on the maximum number of seats, ADMK could concede to a long-time ally, Jayalalithaa, who said she was saddened by the MDMK's decision to walk out of the alliance and boycott the polls. "As the leader of his party, you (Vaiko) have every right to decide your party's future course of action. But as your beloved sister, I still have great love and respect for you," she said.
On the other hand, Dravida Munnettra Kazhagam, south zone organising secretary and Union Minister for Chemicals and Fertilisers, as well as the son of current Chief Minister Karunanidhi, M K Alagiri, said Vaiko had, in the last minute, understood the "egoistic nature" of Jayalalithaa. "It is not the MDMK that has boycotted the elections. Instead, the AIADMK has boycotted the MDMK," he said. 
It is worth recalling that Vaiko formed the MDMK in 1993 after he was expelled from the DMK and after Vaiko returned from meeting the LTTE leader V. Pirapaharan in a jungle in Vanni, who had sailed through a boat without permission from Indian government.
Will the politicians keep their promises?
The ruling DMK has released its election manifesto.  From free grinders to 35 kg free rice every month for 16 lakhs for poor families, free bus passes for senior citizens, free laptops for Dalit (lower caste) engineering students, an increase in old age pensions, new insurance scheme for fishermen, and an increase in loan assistance to women's self-help groups are among the promises being offered to win the election.
Karunanidhi has also pledged to find a solution to the alleged killings of Indian fishermen by the Sri Lankan Navy. Releasing the DMK manifesto, Karunanidhi said his party would urge the UPA Government at the centre to bring back the Katchatheevu Island that was ceded to Sri Lanka in the 1970s. "The increasing incidents of killings of fishers, torture, and arrests in the recent past have become a regular thing. The only solution for this is to get back Katchatheevu. Attempts with this effect would be made consulting central government," he said.
Political observers say that the 2011 elections would not be a cake walk for Karunanidhi's DMK. After the 2G spectrum scam (2G licenses issued to private telecom players at throwaway prices in 2008) broke out, and A. Raja, who belonged to DMK, is now known to be the prime suspect, it'd be tough for DMK to disassociate themselves with the scam. The DMK threatened to pull their six monitors out of New Delhi and promised that the DMK would support the central government based on an issue–by-issue basis from outside, rather than being a coalition member of Congress in central government.  However, the DMK received enormous pressure from the Indian National Congress party led by Sonia Gandhi.  It was rumoured that Sonia threatened Karunanidhi, saying that unless he gave at least 63 seats in Tamil Nadu elections to the Congress, then Karunanidhi and his family, as well as the DMK party members who were involved in massive corruption, would count their days not only politically, but legally, too.  Karunanidhi had no choice but to offer the demanded 63 seats to the Congress.
The DMK never opposed the move when Katchatheevu was handed over to Sri Lanka by the Indian government.  Also, Karunanidhi was a coalition partner of the Bharathiya Janatha Party (BJP) and the Congress-led governments in New Delhi.  Karunanidhi never raised the issue with the coalition governments, but now he is speaking about Katchatheevu, and this issue is seen as a major political strategy.
The ADMK election manifesto, released by Jayalalithaa, promised: 5 lakh IT Jobs in 5 years, opening Engineering colleges equivalent to IIT Chennai in more than 5 major cities of Tamilnadu; ensure Tamilnadu garden of peace; develop new technology for more growth; take the state economy to new heights; introduce more development schemes for people's welfare; eradicate illiteracy; improve the lot of women; attracting foreign companies to invest in Tamilnadu; work towards prosperity of farmers, weavers, fishermen, students, government employees, teachers, workers, and other sections of peoples; control prices; snuff out communalism, extremism, un separatism; and deal with inter-state issues in amicable manner.
Political observers say that the ADMK manifesto does not have practical meaning as the promises are too vague and it is impossible to accomplish them within the next five years.  It is important to note that Jayalalithaa was in power twice and she failed to succeed with the basics, although she may argue that she was the architect for bringing in more foreign investments into Tamil Nadu.  It is sad to note that the neighbouring Karnataka is moving along far better economically, while Tamil Nadu, surrounded by seas, should be able to empower themselves better economically. 
It is unlikely that the people of Tamil Nadu and world Tamils will benefit from the politicians who come to power.  All these politicians are soaked in dirty water and they do the same things repeatedly without providing any accountability to the voters.  The general public in Tamil Nadu cast their votes merely for immediate, temporary benefits.   They misunderstand or can't comprehend how these candidates can effectively represent them in the Assembly. 
The politicians who build their own economic empire go unabated in the guise of democracy, and even when the 87-year old Karunanidhi dies, his son will take up the Chief Minister post if the DMK wins, or we will have to wait and see whether Karunanidhi makes him his heir as the next Chief Minister while he still lives. Jayalalithaa, too, will not bring prosperity to Tamil Nadu.  Only young people with courage and determination will have the guts to make Tami Nadu prosperous and change the political atmosphere. And as such, making Tamil Nadu a shining example to the other Indian States.
(The author can be reached at e-mail: satheesan_kumaaran@yahoo.com)
(For updates you can share with your friends, follow TNN on Facebook, Twitter and Google+)