At UN, As Ban Gets Sri Lanka Report, He Gives to Government, Misleading on Meetings, Nambiar Conflict Called "Specious"
The UN's long delayed report into accountability for war crimes in Sri Lanka was handed to Secretary General Ban Ki-moon on Tuesday, Ban's acting deputy spokesman Farhan Haq announced on April 12, confirming Inner City Press' exclusive report on April 11 that Tuesday would be the day.
But the report was not made public. Rather, Ban shared a copy with the government of Mahinda Rajapaksa "as a matter of courtesy." This, and the delay in even handing over the document, were reportedly agreed to in March when Sri Lankan Attorney General Mohan Peiris, accompanied by presumptive war crimes defendant General Shavendra Silva, visited the UN.
At the time, the only listed meeting was with Ban Ki-moon. But soon Sri Lankan government officials were bragging that they also met with Ban's panel. When Inner City Press asked Ban's spokesman Martin Nesirky, he gave the impression that no such meeting with the Panel took place, saying, you were there, Matthew, you know.
On April 12, when Inner City Press asked Haq to clarify this, Haq denied that Nesirky said there was no meeting with the Panel. The video will tell the story: but whether the Office of the Spokesperson for the Secretary General should be engaging in what many in the press corps see as games.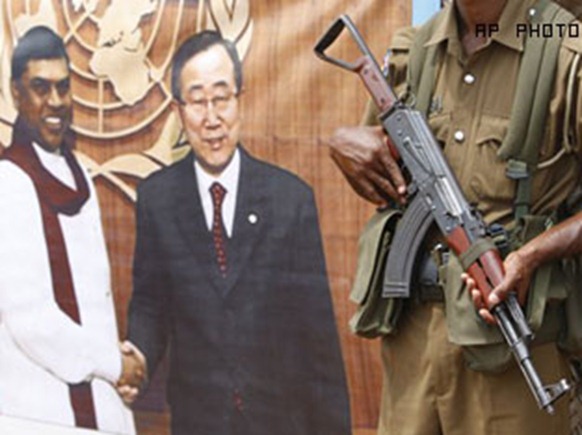 Ban depicted in Sri Lanka camp with (Basil) Rajapaksa & gun
Inner City Press asked Haq, since Ban in December and January said his Panel could travel to Sri Lanka due to Mahinda Rajapaksa's "flexibility," if the Panel had in fact traveled to Sri Lanka and if not, if they were blocked. Haq refused to answer, even if they had gone there.
Previously, when asked about a filing with the International Criminal Court which, while primarily directed against Sri Lankan Ambassador Palitha Kohona, describes the role of Ban's chief of staff Vijay Nambiar in the so-called white flag killings of surrenderees, Haq told a journalist on the record that there has been no formal filing with the ICC. Even now that receipt has been confirmed by the ICC, there has been no subsequent statement by Haq's or Ban's wider office.
Inner City Press on April 12 asked if Nambiar, given his role as described in the ICC filing, will be recused from Ban's decision making on what to do with the Sri Lanka report. Haq quickly called this "specious," pointing out that Nambiar is not the named target of the ICC filing. But that is not the applicable standard for a conflict of interest.
(For updates you can share with your friends, follow TNN on Facebook, Twitter and Google+)