SLA killed my son – Dr. Manoharan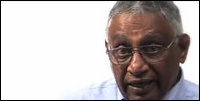 In a video released by Amnesty International in the wake of the submission of a Sri Lanka war-crimes report by a UN-panel to Ban Ki Moon, Dr Manoharan, father of one of the 5 Trincomalee students extra-judicially executed on 2nd January 2006, tells Amnesty that he will continue to challenge the Sri Lanka Government until he receives justice for the "criminal political murder" of his son. The video was shot during Dr. Manoharan's visit to New York during the last week of February 2011 to present the more than 55,000 signatures Amnesty received as part of Amnesty's campaign to urge the UN to begin investigations into the murder of the five Trincomalee students.
Trinc-5 victim Ragihar's father talks to Amnesty
"Thousands of people have died or being disappeared in Sri Lanka, and human rights abuses keep happening as people are not being held to account," Yolanda Foster, Principal investigator for the Sri Lanka campaign says.
On the report submitted by the UN panel of experts to the UN Secretary General Monday, Foster says, Amnesty believes that the report will be very strong [in exposing Sri Lanka's alleged war-crimes], but she expresses her concern that "perhaps UN would just bury this report."
Foster urges all concerned to ask their governments to get a copy of the UN report, so that the report is not lost in the UN system. "People should read it and see the scale and gravity of what happened in Sri Lanka."
An affidavit containing the personal testimony of Dr Manoharan and two detailed reports of evidence collected on the killings by a Rights Group whose members are in self-exile due to threat to their lives, were submitted as record of evidence to the Dublin war-crimes tribunal hearing held in January 2010, US-based pressure group Tamils Against Genocide (TAG) said.
The names and the date of birth of the five students killed in Trincomalee, a big harbor town under the control of and heavily garrisoned by the Sri Lanka security forces are:
Manoharan Ragihar 22.09.1985
Yogarajah Hemachchandra 04.03.1985
Logitharajah Rohan 07.04.1985
Thangathurai Sivanantha 06.04.1985
Shanmugarajah Gajendran 16.09.1985
(For updates you can share with your friends, follow TNN on Facebook, Twitter and Google+)