"Prepared to go to gallows to save Motherland" – Rajapakse
Sri Lanka's President Mahinda Rajapaksa, during a meeting held at Temple Trees today with electoral officers, declared that he is willing to go even to gallows to safeguard his motherland. "Certain groups with vested interest are still hell bent on bringing disrepute to Sri Lanka, almost two years after the war was ended," Rajapakse said according to political sources in Colombo. Rajapakse made these statements in reference to the UN-panels report on Sri Lanka war crimes which was submitted to UN Secretary General Ban Ki-Moon. Sri Lanka-based paper Island leaked the executive summary of the report in an attempt to soften the damages before the UN releases the full report, a political observer in Colombo said.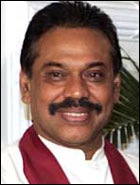 Rajapaksa reportedly told the meeting that he is willing to go to any length to safeguard Sri Lanka from these vested interest groups who are hell bent on bringing disrepute to his country.
Evidence in the report against Sri Lanka are "all fabricated, and I am willing to go to any length to safeguard my country," Rajapaksa was quoted as saying in this meeting.
Meanwhile, President's brother, Gotabhaya Rajapakse who is the current Defense Secretary, threatened that "if the United Nations cannot protect one of its member states, Sri Lanka will be forced to look for protection from Russia and China," Colombo paper Sunday Times said.
UN seemed to have been "hi-jacked by some countries" and that Sri Lanka as a member-state of the UN needs its protection. "This will push us to other countries to protect us. The UN should not be a pawn of some countries," Sunday Times said quoting the Defence Secretary.
Sky News interview before
Puthukkudiyiruppu Hospital attack
Referring to a passage in the report that states that the Army fired on hospitals during the last stages of the war, the Defence Secretary said he had it "in writing" that the hospital had been vacated before the firing had started. "The LTTE moved its heavy guns close to the hospital and started firing at us. We retaliated only after the patients and doctors had left. We dropped leaflets, announced on loud-speakers, declared no-fire zones and had restrictions (on the use of heavy artillery). The report should have taken into account the amount of heavy artillery used by the LTTE. We had a clear justification for the use of force," the paper said quoting Rajapakse.
(For updates you can share with your friends, follow TNN on Facebook, Twitter and Google+)