On Sri Lanka, UN Gave 196 Pages to Silva, Asked 24 Then 36 Hours, Got Played
On Sri Lanka, with the UN Secretariat in seeming paralysis holding back the war crimes Panel of Experts' report five full days after portions were leaked, presumptively by the government, to The Island newspaper, sources have described the process to Inner City Press.
  The report, they say, is 196 pages long. On April 11, Inner City Press learned that it would be handed to Ban Ki-moon on April 12. After it was, it was also provided — on hard copy only — to Sri Lanka's Deputy Permanent Representative, General Shavendra Silva, who is himself implicated in war crimes in the final stages of the conflict.
The UN told Shavendra Silva that Ban would be releasing the report in 24 hours, sources tell Inner City Press. Silva responded that the Sri Lankan government wanted or needed "a little more time." The UN replied that it would give 36 hours, tops.
But the 36 hours came and went. And by then a scan of the hard copy had been provided to The Island, a newspapers with agrees with President Mahinda Rajapaksa. The Island ran it, with typos as identified by Inner City Press.
Inexplicable to many, Ban and the UN Secretariat even then did not release the report. They held it over the weekend, and did not release it either Monday or Tuesday. They have, many say, undermined the report.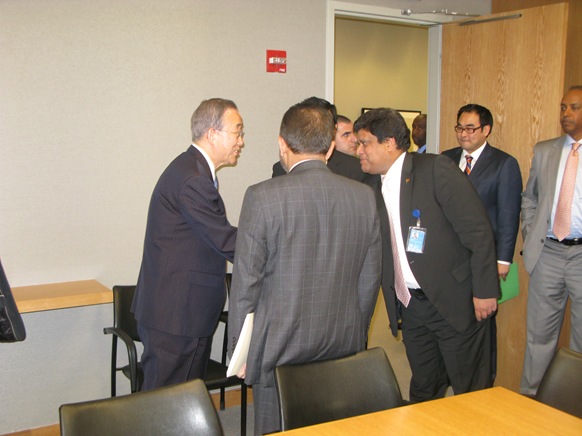 Ban, with Kohona looking on, with Silva, 196 pages & 36 hours not shown
   The Experts, too, have done their part. Their report as excerpted says that all international staff left an area, then has international staff witnessing the shelling of a medical facility. This will be fodder for the government's response. But the government of Rajapaksa has already responded, with a call for mass protests against the UN report on May 1.
Why did Ban do this? Why did he never call for a ceasefire? Why did he send Nambiar as his envoy, and still allow him to be involved after his role in the so-called white flag killings of surrenderees? What will Ban discuss with Russia on his upcoming visit? How might this all be used to assure a second term as Secretary General? Watch this site.
Footnote: beyond misleading about the meeting of Attorney General Mohan Peiris with Ban's now invisible panel, it's reported that during that secret session, the UN agreed to give Sri Lanka some extra weeks before the filing of the report. It was extended to April 12, the day before the New Year in Sri Lanka, when all of the above then happened. One couldn't have done more to undermine a war crimes report.
(For updates you can share with your friends, follow TNN on Facebook, Twitter and Google+)