Tamil Nadu youth immolates himself for Tamil Eelam
Following the UN report calling for an international commission on the war crimes in the island of Sri Lanka, 25 years-old engineer Mr R. Krishnamoorthy, hailing from Thirunelvely District of Tamil Nadu, immolated himself and died on Monday, demanding that the next state government in Tamil Nadu should see Eezham Tamils get their separate country. Tamil Nadu state government should not sworn in until achieving this status for Eezham Tamils, Mr. Krishnamoorthy wrote in a note before his self-immolation at Sangaran Koyil in the southern district. Paying tributes to him, but at the same time requesting that others should not follow such models of action, MDMK leader Vaiko said Tamil Nadu should fight for the achievement of Tamil Eelam.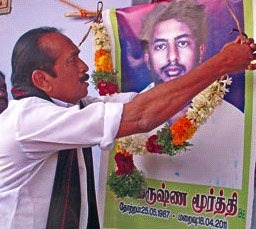 Vaiko garlands Krishnamoorthy's photo [Photo courtesy: Thats Tamil]
Krishnamoorthy was long watching the developments in the island of Sri Lanka with much interest and he used to discuss them with friends, news reports from Tamil Nadu said.
After graduating in Engineering, Krishnamoorthy was working in the Rajasthan state in North India. Recently he came home for holidays. The UN report activated his feelings for the cause, the news reports further said.
(For updates you can share with your friends, follow TNN on Facebook, Twitter and Google+)