India must act over Sri Lanka's war crimes – AIADMK
Citing the leaked UN expert panel's report on Sri Lanka's war crimes, Tamil Nadu's main opposition AIADMK party has demanded India take steps to ensure Sri Lanka's leadership stands international trial. "The UN Panel report is very clear. It lists out the war crimes of the Sri Lankan government," AIADMK leader and former Tamil Nadu chief minister J. Jayalalithaa said in a statement Friday reported on by PTI and IANS.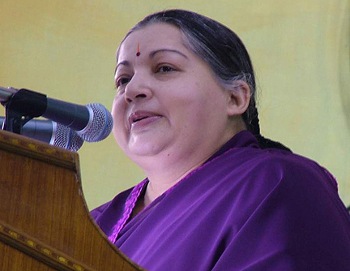 Jayalalitha, former Chief Minister of Tamil Nadu
Quoting from leaked extracts of the UN experts' report, she said Sri Lankan forces "had shelled no fire zones and hospitals, deprived humanitarian aid in the form of food supply and medicine."
She slammed her arch rival and president of the ruling DMK, M Karunanidhi, for his 'three-hour fast' in 2009 demanding a halt to the Lankan Government offensive.
The UN report "clearly holds that the carnage lasted till May 2009, well after Karunanidhi had made his dubious claim that hostilities had ended following his fast on April 27," she said.
pdf: Press Statement of Jayalalithaa
"The Indian Government, on its part, should initiate immediate steps to make Rajapakse and his cronies stand trial in the International Court of Justice for his war crimes," she said.
"Otherwise, (Congress president) Sonia Gandhi's platitudinous assertions on Sri Lanka before the Tamil Nadu electorate would ring resoundingly hollow," she added.
Jayalalithaa added that New Delhi was very much party to "the carnage against the Tamil people in Sri Lanka" when Colombo militarily destroyed the Tamil Tigers in 2009.
She said when there was an international outcry and demands that Rajapaksa should be tried for war crimes, neither the Indian nor the Tamil Nadu governments voiced anguish over Tamil suffering.
(For updates you can share with your friends, follow TNN on Facebook, Twitter and Google+)