On Sri Lanka, 216 Pg UN Report Obtained by Inner City Press, Annex Shows Denied Meeting Took Place
With the UN still not having released its Panel of Experts report on war crimes in Sri Lanka, Inner City Press on Monday morning in the UN's North Lawn building obtained from two separate sources identical scanned copies of the report, 216 pages including the exhibits, and as a public service put one online. One of the sources has asked that it be removed, which it is for now.
  At the UN noon briefing, spokesman Martin Nesirky said the report will be released "today." Until then, Inner City Press will be publishing pertinent portions of the report – watch this site.
The UN initially gave the Sri Lankan government a 36 hours head start. This turned into more than a week, during which time portions of the report leaked to the pro-government newspaper The Island, and it was used both for domestic politics within Sri Lanka, and to get Russia and others to pressure the UN not to release or more importantly act on the report.
Why the UN administration of Secretary General Ban Ki-moon withheld the report for more than a week has not been explained. On April 21, the chief of Ban's Department of Political Affairs Lynn Pascoe told Inner City Press he had not been aware it would not be released at that day's noon briefing.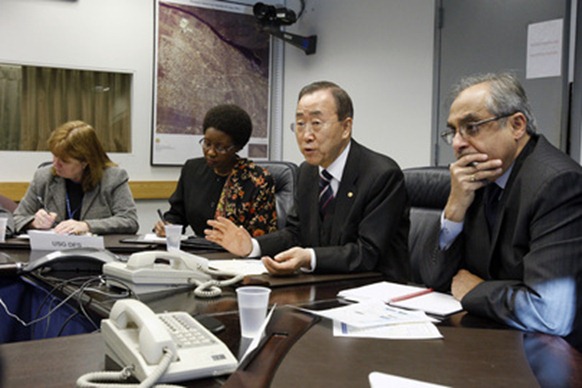 Ban and Nambiar, Sri Lanka report now shown, no thanks to UN
Other sources point to the involvement of Ban's chief of staff Vijay Nambiar, himself involved in the White Flag killings described in Paragraphs 171 – 172 of the report. This is a blatant conflict of interest, and may explain the delay of, and prospectively the inaction on, the report.
The exhibits show that a February meeting between the Panel and Sri Lanka's attorney general Mohan Peiris was arranged by Ambassador Palitha Kohona, whose involvement in the White Flag killings and joint Australian citizenship are the subject of a filing with the International Criminal Court, with Pascoe.
There is more to be said about the report — the scan as obtained lacks page 9, which Inner City Press previously obtained and put online — but for now we publish it in advance of the UN's April 25 noon briefing.
(For updates you can share with your friends, follow TNN on Facebook, Twitter and Google+)