Sri Lanka website LankaeNews is suspended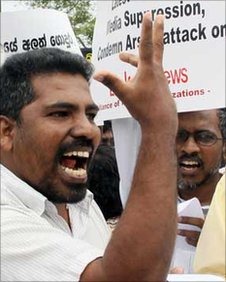 A magistrate's court in Sri Lanka has suspended the operation of the pro-opposition LankaeNews website.
The court ordered the closure because a contempt case was still pending against journalist Shantha Wijesooriya, who has been remanded in custody until 12 May.
The case relates to an article about a magistrate, which was regarded as slanderous.
The court ordered Sri Lanka's telecoms regulator to suspend the website until court proceedings are over.
The website published three apologies before Mr Wijesooriya was arrested on Monday.
The site is currently not available inside Sri Lanka but is accessible outside of the country.
LankaeNews has been facing attacks, threats and intimidation since the presidential election of January 2010.
Its editor has been in exile since then.
In January 2011 the website's premises came under arson attack and two months later its news editor Bennett Rupasinghe was arrested for allegedly threatening a suspect in the arson attack.
Mr Rupasinghe was later released on bail.
(For updates you can share with your friends, follow TNN on Facebook, Twitter and Google+)