Sri Lanka president attacks UN war crimes report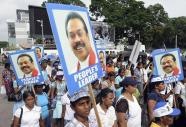 Sri Lanka's president on Sunday poured scorn on the United Nations over a report it published alleging that his military forces may have been guilty of atrocities during the island's civil war.
Mahinda Rajapakse did not name the UN directly but his government had declared that May Day rallies were a protest against UN secretary general Ban Ki-moon, who commissioned the report that was released last Monday.
Tens of thousands of ruling party activists cheered Rajapakse as he said the war against the Tamil Tigers, which ended in victory for the government in 2009, had been waged with respect for human rights.
"When we try to rebuild the country, we face various external threats, people creating problems. I want to tell you that we won't bow down to them," he told the crowd.
"I won't name people, but I appeal to those reporting or writing about this country not to be lured by dollars and write incorrect things."
The UN report highlighted "credible allegations" that both the Sri Lankan army and Tamil Tiger rebels had been involved in violations that could amount to war crimes or crimes against humanity.
It said the Sri Lankan military killed most of the tens of thousands of civilian victims of the offensive when it shelled Liberation Tigers of Tamil Eelam (LTTE) territory between January and May of 2009.
"During the war, we initiated a massive humanitarian operation to rescue more than 300,000 people from the clutches of the LTTE," Rajapakse said. "We clothed them, fed them, gave them medicine, shelter, and help to resettle them.
"Is this a crime or a violation of human rights?" he asked.
Supporters chanted "Ban Ki-moon, we don't want you. We want our president," while they held up placards reading "Banki is a yankee. Go home" and "We reject the UN."
The May Day demonstrators were led by ministers from Rajapakse's United People's Freedom Alliance, and accompanied by brass bands and traditional drummers.
"Thousands of people have stepped out, sacrificing food, water and comforts, to support our president who is facing international pressure as he tries to rebuild our motherland," veteran labour activist Alavi Mowlana said.
Roads to the rally in Colombo were decorated in the party colours of blue, red and maroon, while billboards were erected showing the president and recently-completed development work.
"We want to send a clear message to the international community that no imperialist interventions are possible in Sri Lanka," said petroleum minister Susil Premajayantha, who is also the ruling party's general secretary.
More 8,000 police officers and hundreds of army personnel were deployed around the capital to maintain security on May Day, which is traditionally a day of workers' demonstrations across the world.
Sri Lanka has repeatedly denied any rights violations during the civil war and refused to allow the three-member UN panel of experts who wrote the report access to the country.
Rajapakse said that even rebels who were being trained to become Tamil Tiger suicide bombers had received rehabilitation care and then been released.
"Some are in universities," he said.
(For updates you can share with your friends, follow TNN on Facebook, Twitter and Google+)