Sri Lanka war-crime alleged over killing of TECH Director
Emerging evidence on Sri Lanka military targeting civilian leadership of Eezham Tamil development organizations at the end of Vanni war further reinforces the credible allegation that Sri Lanka's war crimes and crimes against humanity had genocidal intentions. C. Sivalingam Suhunan, alias Thilak, the executive director of TECH (The Economic Consultancy House), the flagship development NGO of the de-facto state of Tamil Eelam and a registered NGO in Sri Lanka, was one of the victims, according to a Senior official of TECH, who has identified Thilak's body in a recently leaked photograph taken by Sri Lankan soldiers. Mr. Suhunan had phoned his family last on 18 May, 2009 at 6:15 a.m. local time, informing that he was among a group of persons in civil clothes, going into Sri Lanka Army (SLA) controlled territory in Mullaiththeevu.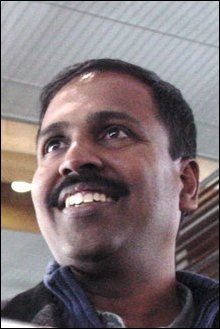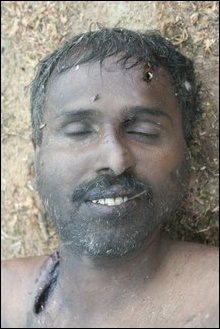 A former associate of Mr. Suhunan who escaped from the SLA-run internment camp, alleged that Sri Lankan military identified capable people among the captives and civilians, isolated them for extermination as part of the continued genocidal agenda, after committing serious war crimes on the former LTTE members.
Mr. Suhunan was earlier the Trincomalee Political Head of the LTTE.
TECH was the brain child of late Professor Thurairajah, Vice Chancellor of Jaffna University (1988-1994), and evolved into a formidable research and development facility during the CFA period. TECH worked with international NGOs including CARE and FORUT, and ws mandated to carry out projects that promote creation of income generating small scale enterprises to help economically disadvantaged section of the NorthEast population.
Suhunan took over the leadership at TECH in the latter part of 2003 and was instrumental in obtaining diaspora support for several agricultural and poultry farming projects for economic upliftment of the low-income strata of the population.
During the ceasefire, Mr. Suhunan, visited Germany, France and Norway for discussions with government and non-government development agencies in Europe.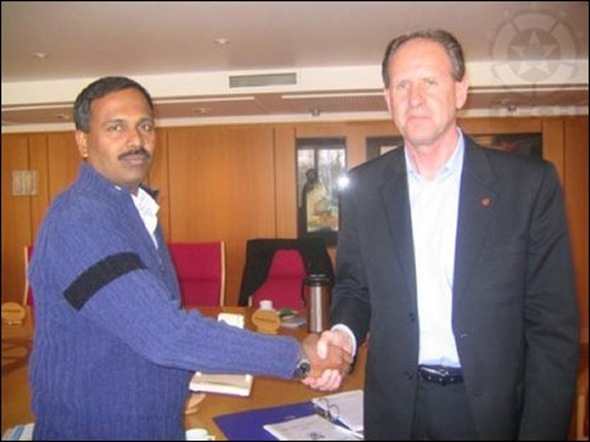 Mr. Suhunan meeting the mayor of Lørenskog in Norway in 2005 [Photo: TECH Norway]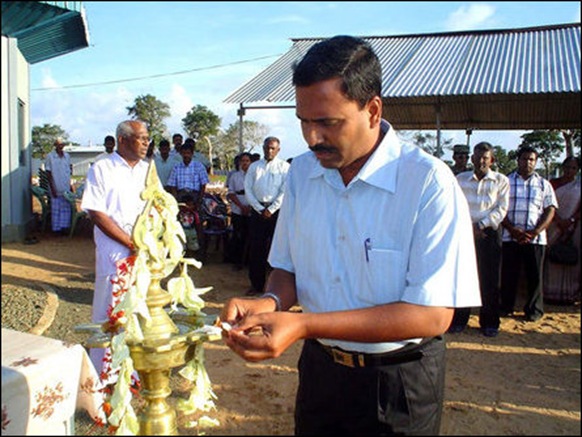 Mr. Suhunan, lighting the traditional lamp at the opening ceremony of Tamil Eelam Weather Monitoring Centre in November 2005 in Ki'linochchi
(For updates you can share with your friends, follow TNN on Facebook, Twitter and Google+)