Rathika becomes the first Eezham Tamil MP in Canada
29-year-old Canadian Eezham Tamil Rathika Sitsabaiesen, hailing from Achchuveali in Jaffna, has been elected as member of parliament in Canada as a candidate of New Democratic Party (NDP) which has emerged as the leading opposition under the leadership of Jack Layton in the general elections held on May 02. Ms. Rathika now represents the multi-ethnic federal constituency of Scarborough- Rouge River, where Eezham Tamils make a significant section of the population. She is the first Tamil to be elected to the Canadian Parliament. Her successful election by a big margin through the opposition NDP ticket reflects the true feelings of Eezham Tamils in Canada towards establishments that slip in delivering justice to Eezham Tamils, commented Tamil diaspora circles in Canada.
NDP Leader Jack Layton was always in the forefront in voicing for the grievances of Eezham Tamils in the times of their crisis, diaspora circles in Canada further said.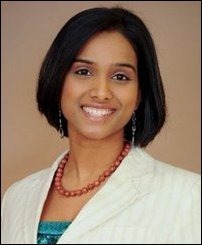 Rathika, who became actively involved with the NDP in 2004, also served as the advisor on Tamil affairs to the NDP leader.
According to Canadian media, Scarborough- Rouge River was always a safe Liberal seat earlier.
Ms. Rathika, a first time candidate, secured victory with a big margin for the NDP in the present elections. She polled 41.1% trailed behind by Marlene Gallyot of the Conservative Party, who polled 29.6% and Rana Sarkar of the Liberal Party polling 27.1%.
Ms. Gallyot is a former immigration consultant and Mr. Sarkar is the CEO of the Canada-India Business Council.
Rathika was doing her Master's Degree in Industrial Relations in Queen's University.
She joined Toronto University for her undergraduate studies, where she was Vice-President of the Tamil Student's Association. Later, she received her Bachelor's degree in Commerce from the Carleton University where she was vice president of the University Students Union.
The NDP has secured 102 out of 308 seats in the House of Commons, up from 37 in the previous House, becoming the leading opposition for the first time. Liberals received 34 seats.
(For updates you can share with your friends, follow TNN on Facebook, Twitter and Google+)