Sinhalese stage anti-UN demonstration in Jaffna
In a comic show of events, Sinhalese thugs bought from the south staged a demonstration in Jaffna Sunday, against the UN panel report calling for war crimes investigation. In several places in the Jaffna city they were seen forcing passing by people to sign petitions and those who refused were chased and manhandled by the military intelligence accompanying the 'demonstrators.' Even a reputed Catholic priest was not an exception, news sources from Jaffna said. While Tamils have to build up their own democratic polity for 'reconciliation' within a 'united' island is the reiteration of the US Asst Secretary of State Robert Blake, the Indian National Security Advisor Shiv Shankar Menon's position is that why should there be any qualms in Tamil Nadu when Eezham Tamils and Sinhalese make 'home-made solutions' in the island.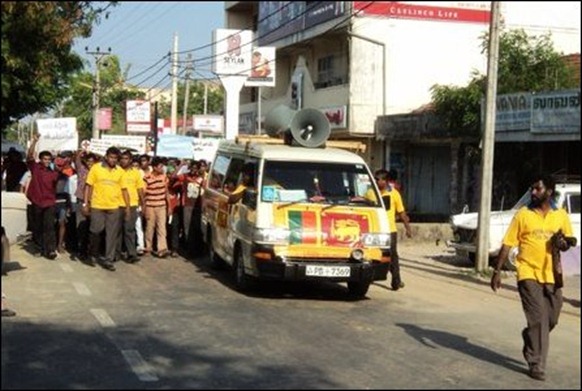 50-100 Sinhala thugs who have landed in vehicles near Kurunakar in Jaffna city on Sunday staged a 'demonstration' against the war crimes recommendation of the UN panel report and were engaged in manhandling passers-by when they refused to sign petitions.
The 'demonstration' was held with the support of the intelligence personnel of the occupying SL military in Jaffna.
The 'demonstrating' group stopped at junctions to get signatures from people passing by, and those who tried to escape were chased, manhandled and were brought to put their signature.
One of the victims was a Catholic priest in Jaffna, Rev. Fr. Xavier, who is the head of the reputed aesthetic institution of the Catholic Church in Jaffna, known as Thiruma'raik Kalaa Man'ram.
When the priest seen in his cassocks tried to escape by getting into the building of the Thiruma'raik Kalaa Man'ram, he was chased behind, dragged, and was brought to put his signature.
The group later marched through the Veampadi Road into the heart of the city of Jaffna. Residents and shopkeepers closed their doors. But the 'demonstrators' got hold of the passengers waiting for buses in the central bus stand, to get signatures.
Many in the public meekly put their signatures since the 'demonstrators' were accompanied by the military intelligence.
Those who tried to run away were attacked.
Already there were news reports last week that Sinhala thugs brought for disruptive purposes are kept in hideouts in Jaffna.
The show that 50-100 thugs brought from the south are enough to prove the subservience of Tamils in their own land and even in their own city, was demonstrated between 4 and 6 pm Sunday.
(For updates you can share with your friends, follow TNN on Facebook, Twitter and Google+)