As UN SC Blind Spots Critiqued, Sri Lanka Excluded Due to "Sensitivities"
The UN Security Council's intentional blindspots on the protection of civilians are sampled in a study released today by the UK-based organization Oxfam — a study which itself has blindspots.
To its credit, Oxfam compares some numbers to what's on the Security Council's agenda:
"Darfur had over 2,300 fatalities recorded by the UN in 2010, but with no indication of civilian deaths. Similarly, Colombia, the DRC, and Myanmar each experienced over 1,000 fatalities, but Myanmar and Colombia remain off the UNSC's agenda. Kyrgyzstan – with some 300,000 people displaced in 2010 – also remains off the UNSC's agenda."
The mission in Darfur, UNAMID, under Ibrahim Gambari has largely gone silence on reported bombings by the government of clinics, and blockades of aid and medical supplies to camps for internally diplaced people.
  Similar silence from the UN mission in Western Sahara, MINURSO, does not even appear to be mentioned in Oxfam's 39 page report, which analyzes the protection of civilians work for UN peacekeeping missions.
  While Oxfam recommends among other things that the UN's Emergency Relief Coordinator, former UK diplomat Valerie Amos, brief the Council more often, it's been striking for example that Amos, when asked by Inner City Press, claimed she was unaware of the harm to civilians by causes earlier this year by the sanctions and embargo on Cote d'Ivoire, resulting in no medicine for civilians in Cote d'Ivoire. More briefings of this kind will scarcely solve the problem.
In fact, Oxfam's report seems to some to be politicized, or at least and by its own admission to have given in to "reporting sensitivities." In explaining why it chose the 18 countries it did, while excluding Sri Lanka where by the UN Panel of Experts own recent finding, "tens of thousands" of civilians were killed, Oxfam in Footnote 27 states:
"The 18 countries chosen for inclusion were Afghanistan, the Central African Republic, Chad, Colombia, Côte d'Ivoire, Democratic Republic of Congo, Iraq, India, Kyrgyzstan, Myanmar, the Occupied Palestinian Territories/Israel, Pakistan, the Philippines, Somalia, Sudan, Thailand, Turkey, and Yemen. Though Sri Lanka passed the criteria for inclusion in this report, due to disputed information, difficulties in verification, and reporting sensitivities, it was finally excluded from the countries under study."
So, "Sri Lanka passed the criteria for inclusion in [Oxfam's] report," but Oxfam decided to exclude it due to "reporting sensitivities." This in a report that purports to urge the Security Council to become objective, to not give in to vetoes much less "sensitivities." Oxfam should explain this.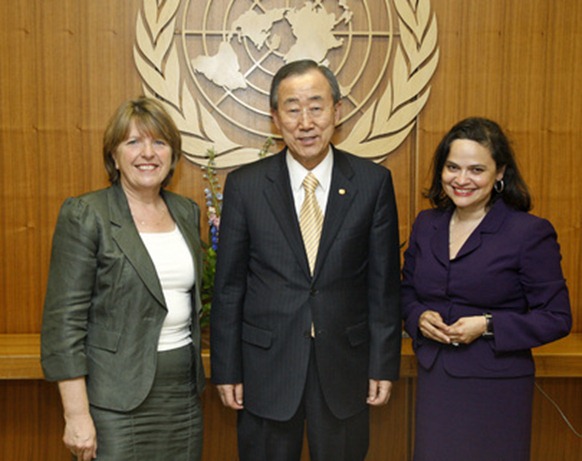 Ban and OXFAM-ers, Sri Lanka not shown
Even this month's Security Council president, Gerard Araud of France, said at his press conference beginning the month's Program of Work including the May 10 debate on protection of civilians that "30,000 civilians" were killed in Sri Lanka. This is a higher number than anything else in Oxfam's report, but is excluded.
Oxfam also asked for more briefings from, and presumably respect for, the Ban Ki-moon's Advisers on the Prevention of Genocide, Francis Deng, and on the Responsibility to Protect, Ed Luck.
When Inner City Press asked Deng which countries his office is looking at, Deng responded that he doesn't like to get country specifics. Despite his geniality, there are numerous complaints from within his office, about lack of direction in the UN work, and requirements to do non-UN work such as edit and even type portions of Deng's books.
Ed Luck, at last interface, was applying for a job in Minnesota which would remove him from the R2P post. Unless, like Ban's Special Envoy al Khatib who remains a Senator in and resident of Jordan, Luck got dispensation to moonlight and work, with UN staff, from his new home.
(For updates you can share with your friends, follow TNN on Facebook, Twitter and Google+)