Nothing will happen by some welcoming UN report: Basil Rajapaksa
Sri Lanka President's brother and SL Economic Development Minister Basil Rajapaksa made an unannounced sudden visit to Jaffna Monday. Nothing will happen by some welcoming the UN panel report and 'Tamils should not play treachery by betraying the country for a few thousand dollars,' Basil Rajapaksa who was carrying a 'special message' from Mahinda Rajapaksa to the people of Jaffna said, while addressing a meeting at Maaviddapuram. Basil's 'message' implied a warning against any evidence going out of Tamils in Jaffna on the war crimes and genocide committed on them, news sources in Jaffna said.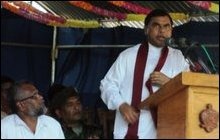 Basil Rajapaksa on an un-announced visit to Jaffna on Monday
The meeting was organized to announce the opening up of some more territory in Maaviddapuram in the Valikaamam High Security Zone for the owners of the land to resettle.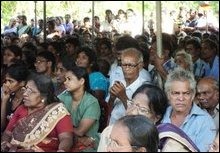 Basil Rajapaksa said that according to the SL president there are no more High Security Zones but the entire island is a 'peace zone.'
He came hard on the TNA for welcoming the UN panel report.
The meeting was attended by around one thousand of the public who own lands in the High Security Zone and were brought to the venue.
Even though the TNA parliamentarians were participating the meeting they were not allowed to address the gathering. Only Basil, collaborating SL minister Douglas Devananda and the Sri Lanka Government Agent in Jaffna, Mrs. Imelda Sugumar spoke on the occasion.
Basil Rajapaksa's 'warning' to Eezham Tamils in Jaffna on Monday comes after a group of Sinhala thugs and an SL minister with the backing of occupying Army and military intelligence intimidating Eezham Tamils in Jaffna city and Vanni to sign petitions against the UN panel report over the weekend.
A reputed Catholic priest Rev. Fr. Mariya Xavier in his robe was dragged out of his institution by the thugs to sign the petition.
(For updates you can share with your friends, follow TNN on Facebook, Twitter and Google+)