UK Tamils plan protests during Sri Lanka cricket tour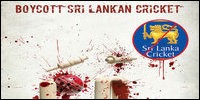 Tamil Diaspora groups are planning protests to coincide with Sri Lanka's cricket tour of England this summer, beginning with a demonstration on May 14 at the Uxbridge venue of the first match between Sri Lanka and Middlesex County. The protest series is the latest phase of a 'Boycott Sri Lanka Cricket' campaign initiated by the Tamil Youth Organisation (TYO) in March and since endorsed by several other Tamil community groups in recent weeks. Meanwhile, Tamil campaigners Monday dismissed Sri Lankan press reports claiming that British authorities were trying to prevent the protests.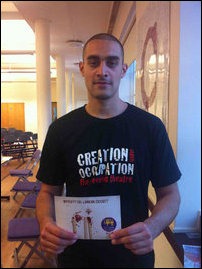 London-based rapper Lowkey signs TYO's 'Boycott Sri Lanka Cricket' postcard.
"We have been in close consultation with the Police and other relevant authorities [over the planned protests]. The discussions have been professional, amicable and mutually respectful," a spokesperson for TYO, Thusiyan Nandakumar, told TamilNet Monday.
"The reasons for [our] protests, including the similarities to past calls for sports boycotts of Zimbabwe and apartheid South Africa, are well understood here."
"The police have been clear that they are in no way opposed to our protests, provided these are conducted within the law," Nandakumar said.
"They also made clear that as British citizens it is our right to peacefully protest and it is their [police's] role to ensure we can do so. They have asked for some minor adjustments to our plans, which we have taken on board and implemented."
"The visit by a sports team representing Sri Lanka is another opportunity for us to further raise awareness here and elsewhere of that state's chauvinist policies, including its mass killings of Tamil civilians in the final months of the armed conflict," he said.
The planned protests follow on from a wave of street campaigning by TYO members to raise awareness about the Boycott Sri Lankan Cricket initiative.
The campaign has won endorsement from British parliamentarians, the UK hip hop artist Lowkey, and John Rees, co-founder of the 'Stop The War Coalition' group.
(For updates you can share with your friends, follow TNN on Facebook, Twitter and Google+)