As EU Notes UN Report, Sri Lanka Scoffs At Do Gooders, Navy's Idle Hands
As Sri Lanka's Permanent Representative to the UN Palitha Kohona walked out of the UN Security Council on Tuesday, Inner City Press asked him about the European Union's statement on the UN Panel of Experts war crimes report, and about reported "militarization" of Colombo.
   The EU statement is that "The Panel has concluded that there are credible allegations that major violations of international human rights and humanitarian law were committed on all sides in the conflict.
  The EU reiterates its view that an independent process to address these extremely serious allegations should contribute to strengthening the process of reconciliation and ensuring lasting peace and security in Sri Lanka."
   Kohona scoffed that it is the statement of "international do-gooders" trying to clean "their conscience."
  About the Sri Lanka Navy taking over management even of public parks in Colombo, Kohona argued that "there are 200,000 of them with nothing to do," that the military assembled for the conflict must now be re-trained in civilian work. Parks: the new growth economy.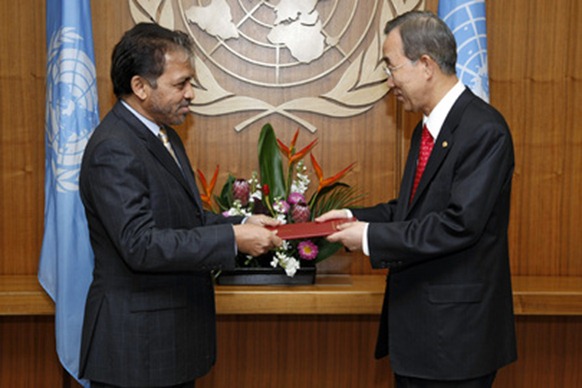 Ban previously taking hand off from Kohona, response still not shown
  Kohona was one of more than 50 speakers on "Protection of Civilians" in the Security Council on Tuesday. Secretary General Ban Ki-moon's November 2010 report on the topic stated, at Paragraph 91
"In the case of Sri Lanka, instead of establishing a fact-finding or accountability mechanism, I appointed in June 2010, as follow-up to my May 2009 joint statement with President Rajapaksa, a panel of experts to advise me on Sri Lanka's efforts to address violations of international humanitarian and human rights law that may have occurred during the conflict."
(For updates you can share with your friends, follow TNN on Facebook, Twitter and Google+)