Jaya victory lap an after-effect of DMK debacles?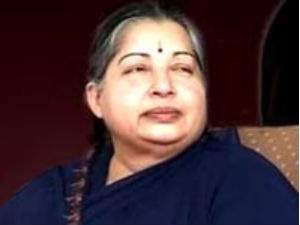 It seems that there is a woman's wave in the Assembly results this time around with the Didi and Jaya looking for a clean sweep on the results that will be declared soon. The Tamil Nadu Assembly Elections were much anticipated with the DMK threatening to spoil the chances of Jayalalithaa and her AIADMK.
With Jayalalithaa almost at a certain win, celebrations have started near her residence and the party office. Her win could spell bad news for the DMK at multiple levels. With the Congress-DMK alliance hanging on a thin thread, Jaya's win will lead to the souring of already staled relationship. The 2G scam hurt the chances for the DMK, rather than negatively impacting on DMK, positively did towards AIADMK and Jaya's journey to the Chief Minister's chair.
With the daughter of the DMK family, Kanimozhi evading arrest, will the win pave the way to an arrest. As somebody had tweeted smartly, DMK's loss could mean jail for Kani and party's win will mean bail for her. [Read: TN, WB, Kerala set for new govt]
At the last update of the TN Assembly results, AIADMK was at a whopping 163 against an almost-defeated 40 from the DMK. More than her own personal victory, Jaya's win was the result of DMK'S setback. While Karunandidhi and family are all set to face a huge setback with Tamilians pronouncing the verdict, Jayalalithaa will be laughing her way towards the Chief Minister's position.
(For updates you can share with your friends, follow TNN on Facebook, Twitter and Google+)