Restoring rule of law is my first priority: Jaya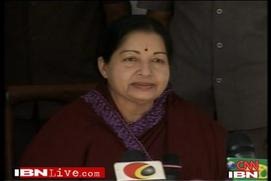 AIADMK chief J Jayalalithaa said on Friday that her first priority would be to restore the rule of law and governance in Tamil Nadu where her party won a handsome victory routing the DMK-Congress alliance in the Assembly elections.
Addressing a press conference in Chennai after the AIADMK-led alliance secured a massive win the 234-member Tamil Nadu Assembly, Jayalalithaa thanked the voters of the state and called it a victory of democracy.
"I am grateful for the people. It is the victory of democracy. My first priority is to restore the rule of law and governance," said Jayalalithaa.
Claiming that she has always provided a better government than her rivals, the AIADMK supremo said, "I have rebuilt the state earlier. I will have to do this time also. The DMK has ruined the economy and we will have to restore the economy. Financial institutions have ruled out rebuilding the economy and we had taken it as a challenge," she said.
She alleged that the DMK was unable to provide a good government and the people wanted to end M Karunanidhi's misrule.
"People were waiting to shunt out the DMK. The elections provided a chance for the people to end the misrule. It's also defeat of money power. This is a victory for the people of Tamil Nadu," she said.
Although the AIADMK has announced that it has no intention of sharing power with allies, Jayalalithaa thanked them for the landslide victory.
(For updates you can share with your friends, follow TNN on Facebook, Twitter and Google+)