Eezham Tamil media in the island highlight Jayalalitha victory
The media of Eezham Tamils, both in Jaffna and Colombo, highlighted AIADMK victory in the headlines, with a specific note of Ms. Jayalalitha's concern to Eezham Tamils, especially her stand on genocide, war crimes and international justice against SL President Mahinda Rajapaksa.
Ms. Jayalalitha, expressing that she would press for concrete action with the Centre in India on international investigations against SL President Mahinda Rajapaksa and if Mr. Rajapaksa didn't coorporate India should consider economic sanctions, was highlighted in the media.
The Student Union representatives at the University of Jaffna and in the Eastern University in Batticaloa, expressed hopes that Ms. Jayalalitha's stand signalled that there would be a different and healthier line of politics from Tamil Nadu on Eezham Tamil affairs and the issues affecting the Tamil Nadu fishermen.
The NGO forum representatives in Jaffna also expressed hopes saying that the overwhelming mandate, given by Tamil Nadu people to Ms. Jayalalitha, has placed her on a unique position to exert pressure on New Delhi to take a different line than what it has been doing so far by deploying a biased lot of personalities who were abetting the genocidal war waged against Eezham Tamils by Colombo.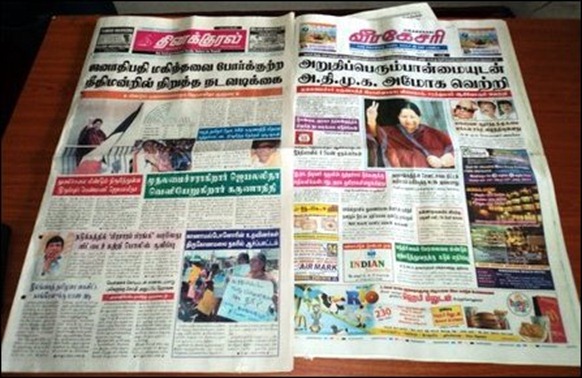 (For updates you can share with your friends, follow TNN on Facebook, Twitter and Google+)