Eezham Tamils encouraged by Jayalalitha's stand: TNA
Suresh K. Premachandran, the official spokesman of Tamil National Alliance (TNA) on Saturday sent TNA's congratulations to Ms. J. Jayalalitha, the newly elected chief minister of Tamil Nadu state in India, saying that Eezham Tamils have become hopeful and are encouraged by the stand Ms. Jayalalitha has expressed to the media on the plight of Eezham Tamils. "Eezham Tamils seek your immense support to gain their full self-rule with self-dignity to lead a life in their own soil," Mr. Premachandran said in the message.
Eezham Tamils, who faced the brunt of a large-scale war, sacrificing more than hundred thousand lives and losing several thousand crores worth of their properties, continue to struggle as an orphaned people without any solution to their fundamental issues, the TNA MP said. "80,000 Tamil women are widowed. Thousands are disabled. Hundreds of children are orphaned by the war. Above all the sufferings, thousands of Tamils are still searching for their loved ones – husbands, children and parents."
"At this juncture, the Tamil Nadu people have brought you as the Chief Minister, placing an overwhelming confidence in you", Mr. Premachandran said in his message to the new Chief Minister of Tamil Nadu.
Full text of the message in Tamil follows: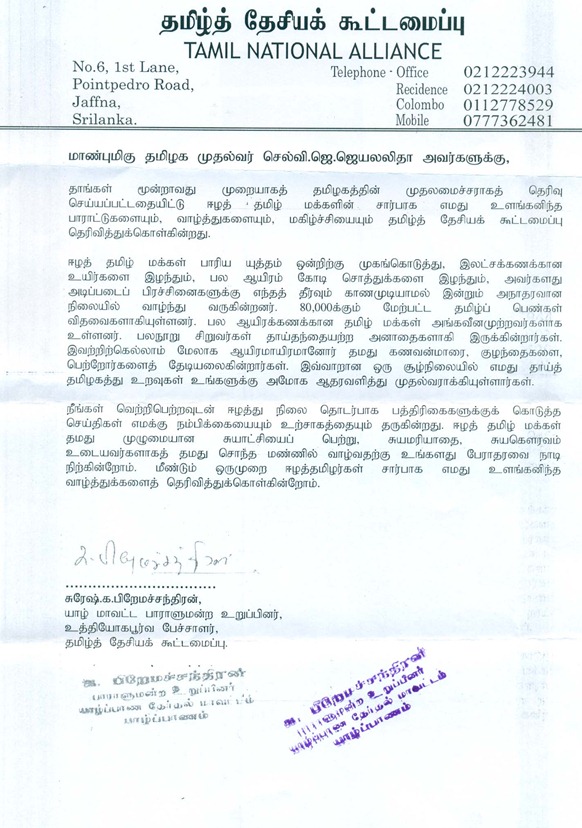 (For updates you can share with your friends, follow TNN on Facebook, Twitter and Google+)