UN Won't Confirm Weerawansa of Sri Lanka Here, Calls His Blockade Legitimate
Last June UN Secretary General Ban Ki-moon said it as "unacceptable that the Sri Lankan authorities have failed to prevent the disruption of the normal functioning of the United Nations offices in Colombo as a result of unruly protests organized and led by a cabinet minister of the Government."
  That minister was Wimal Weerawansa. On May 16 it was reported that Weerawansa was inside the UN in New York, speaking at an event with Ban Ki-moon.
  And so at the UN's noon briefing Inner City Press asked Ban's spokesman Martin Nesirky to confirm or deny that Weerawansa was at the event.
  Rather than answer, Nesirky asked his own question to Inner City Press: "What would be your problem with" Weerawansa being there?
  Inner City Press explained the seeming incongruity between this and Ban's condemnation, then again asked for a simple yes or now, was Weerawansa there?
  "I have no idea," Nesirky said, "if you'd gone you'd know there were a lot of people. I suspect the Secretary General moved on."
A senior adviser to Ban, back in July, called Weerawansa's tactics "Gandhian." And despite or subsequent to Ban's July 8, 2010 condemnation, that seems now to be the view.
  Nesirky told Inner City Press, "As we've said, peaceful demonstrations are legitimate… If the authorities take action, that's a different matter."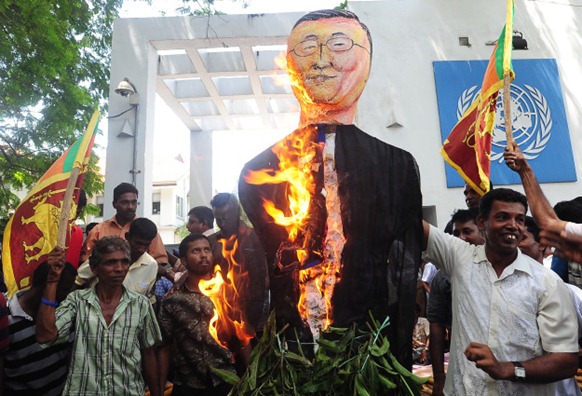 At the Wimal-organized protest, staff blockaded in, UN flip flop
  Actually, the Sri Lankan authorities in the form of Presidential brother Gotabaya Rajapaksa ordered that Weerawansa not be hindered in any way.
  Using the stance of a government's "authorities" as the test for the UN's position is ludicrous, as seen in Libya and now Yemen and Syria.
  Why such a different stance on Sri Lanka? Elsewhere in the briefing, Nesirky chided Inner City Press, "you try to draw parallels between different topics, it's not particularly helpful." Not helpful to whom?
(For updates you can share with your friends, follow TNN on Facebook, Twitter and Google+)