Petition on Sri Lanka War Crimes Is Fake Carried Into Empty Building by UN Staffer, Nambiar Stonewalls
On the second anniversary of the bloody end of the conflict in Sri Lanka, outside the UN in New York chants of "UN, UN, Never again" and "Ban Ki-moon, Act Now" echoed off the white metal building where Secretary General Ban's office now is.
Inner City Press asked Ban's spokesman Martin Nesirky if the UN's envoy to Sri Lanka Vijay Nambiar would be willing to answer some questions, about his role in the final stage of the conflict, watching Unmanned Aerial Vehicle footage and telling surrenderees to come out with white flags, whereupon they were killed.
No, Nesirky replied, Nambiar would not be taking questions from the press, even after he spoke to the Security Council the next day.
Out on Dag Hammarskjold Park when Inner City Press went out into the rain after this inter-change to cover the protest, the name of Nambiar came up. Leaders of the demonstration said the UN had promised to at least send an official to meet them inside and accept a petition from them. The UN had asked, they said, that there be no press coverage.
For that reason, Inner City Press did not stand with them in the lobby of the General Assembly as the time for the meeting or encounter came and went. Inner City Press was speaking with another journalist, about another topic, when a staffer of the UN Department of Political Affairs working under Tamrat Samuel belatedly met the Tamil group.
Inner City Press did not interrupt the brief exchange, but did take a picture of the petition being handed over. [Later, the UN requested that even a photograph not be published. Hence this:]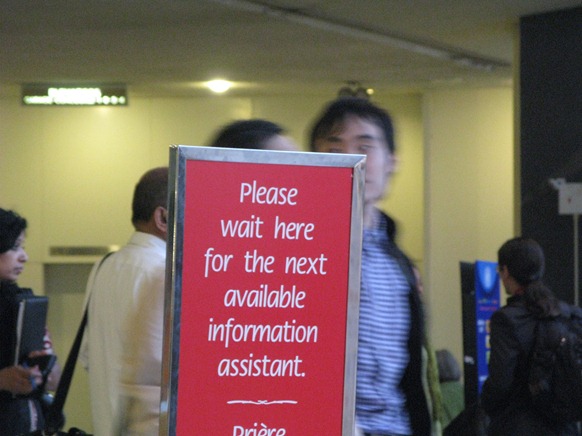 In UN lobby May 18, '11 waiting for next UN assistant (c) MRLee
  After that, the UN staffer walked not toward the North Lawn building with Ban's office in it, but rather into the General Assembly, toward the entirely closed Secretariat building.
   Mystified, Inner City Press followed and watched as the staffer looked behind him, stopped then reversed his steps. He had walked purposefully toward a dead end to give the impression of resolve. But with the Tamils having left the General Assembly building, he walked again the length of the lobby and toward the North Lawn building.
   Inner City Press followed him and asked, what will happen with the petition? He shrugged, "can't really say."
Since some Ban staffers have been telling Inner City Press that Ban would do "something" about the UN Panel of Experts report alleging tens of thousands of civilians killed, Inner City Press asked what to expect. Again, there was no answer.
Inner City Press told him it was Ban or Nambiar, really, who should be answering press questions. This seems undeniable. But Ban has not held a press conference in months, and is heading out of New York again, first to Cote d'Ivoire.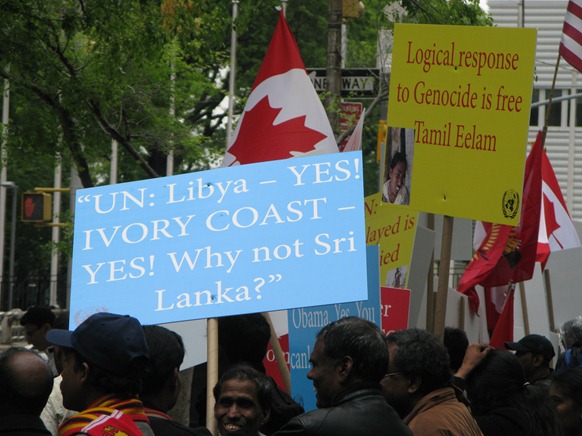 A sign out on Dag Hammaskjold Plaza read, "UN: Libya – yes! Ivory Coast – Yes! Why not Sri Lanka?" Why not indeed.
(For updates you can share with your friends, follow TNN on Facebook, Twitter and Google+)