Rajni is fine: Latha Rajinikanth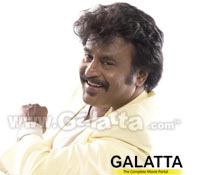 After many speculations about Superstar Rajnikanth's ill health, here comes breaking news! Rajni's wife Latha Rajinikanth confirmed to a private TV channel that the actor is suffering from a severe stomach infection which created some imbalance in his body. "All his organs are fine now and there is no kidney problem. He is eating well and the doctors have kept him under observation in ICU to avoid further complications," Latha was quoted as saying.
"Thanks for all your prayers and please dont spread any rumours about his health," she requested.
Meanwhile, Dr. Thanikachalam, Chief Doctor, SRMC, confirmed that the actor 's condition has improved. "He was very cheerful today; he even had two idlis and vada for breakfast. Rajni will stay in the hospital till he recovers completely," he said.
He further revealed, "Rajni was suffering from respiratory infection. We have removed the fluid that accumulated in his lungs; he is recovering well now and will will be shifted to the ward soon." The doctor also confirmed that the 61 year old actor not suffering from any renal failure or heart aliment.
Rajni is fine: Latha Rajinikanth
(For updates you can share with your friends, follow TNN on Facebook, Twitter and Google+)