Full story – Norwaynews.com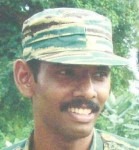 A Norwegian based LTTE leader Perinpanayagam Sivaparan known by his nom de guerre Nediyawan is a prominent figure and New Leader to the Liberation Tigers of Tamil Eelam had to explain himself behind closed doors to Dutch authorities in a judicial interrogation at Oslo District Court on Wednesday and Thuesday. A Dutch judge and five Dutch Defence Attorneys are in Norway to interrogate the LTTE Leader Nediyavan, who is a resident of Norway. The LTTE Leader is to be interrogated over two days, and is pointed out by several people to be a key leader of the Tamil Tigers (LTTE).
In Norway the LTTE can operate freely, but in the USA, Australia and EU, they are considered to be a terrorist organization and are officially listed on the terrorists.
The Tamil Tigers have been on EU's terrorist list since 2006, and financial support to the organization is considered to be a criminal offence in the Netherlands.
Police Security Service confirms assistance
The Police Security Service (PST) does not want to make a comment on the secret case, but confirms to TV 2 that they assisted Dutch police with the interrogation in the District Court.
The Dutch came to Norway because of an investigation of a terrorist financing case, where seven Tamil Tigers were arrested last year.
In April last year, Dutch police went to sixteen different addresses and made comprehensive apprehensions after the national security police (AIVD) had been investigating possible funding of the LTTE from the Netherlands for some time.
LTTE's 52-year old "chief accountant" and the alleged leader of the LTTE in Netherland (46) were among the arrested.
According to Dutch court documents, the LTTE in the Netherlands has an "iron-grip" on the Tamil minority in the country.
Those who do not support the LTTE with money are threatened with retaliations, it says in the Dutch court documents, according to NRC Handelsblad.
Was aware of the terror interrogation
Secretary of State Pål Lønseth in the Ministry of Justice says to TV2 that he does not believe other countries perceive Norway as a safe haven for terrorists.
He confirms that he knew about the Dutch case and the interrogation in Oslo Court District.
- I am glad the international police cooperation works in these cases, and I am glad that these types of interrogations are conducted, says Lønseth.
But are you concerned that the Dutch terror case can have roots in Norway?
- One should always be aware that there may be financing of terrorists in Norway. I am sure that is so. But it is the police and the prosecutors who must pursue it. And evaluate from case to case whether there are grounds for investigation and prosecution of people residing in Norway, Lønseth responds.
What is the largest challenge of the Tamil Tigers not being condemned as a terrorist organization in Norway, as they are in large parts of Europe?
- I do not know if I would classify it as a problem, because I am sure that PST and prosecutors follow these groups closely and consider whether there are grounds for concern in relation to terrorist financing.
But many will regard Norway as a kind of safe haven for the Tamil Tigers, which they consider a terrorist organization. Is it politically problematic?
- It is problematic if Norway is considered a safe haven. But I do not think it is perceived that way because Norway has made a significant contribution in relation to combating terrorist financing and terrorism, including on foreign soil.
- Norwegian police and prosecutors are following the issues closely, and I have full confidence that they take the necessary measures, said Secretary of State Paul Lønseth to TV 2.
(For updates you can share with your friends, follow TNN on Facebook, Twitter and Google+)