Early Eazham-Tamil diaspora novel published in Malaysia in 1927
A Tamil novel, Sampasivam–Gnanamirtham, set in the background of migration from Jaffna to British Malaya and Singapore, and was published in 1927 in Kuala Lumpur, is one of the earliest pieces of Eezham Tamil diaspora literature, writes a student of History who brings out an electronic copy of the publication for the benefit of research and documentation. The author of the novel Mr. A. Nagalingam (1901-1979) himself was a migrant to British Malaya from the Island of Kaarainakar, Jaffna. He was working in the Treasury of Kuala Pilah at the time of the publication. The 360-page novel was printed by S. Lazar & Sons, 13, Scott Road, Kuala Lumpur. The author records his intention of renovating a tank in his native village from the sales of the book and the support he received in this respect from the Sultan of the Negri Sembilan State of Malaya, Sir Mohamed Shah.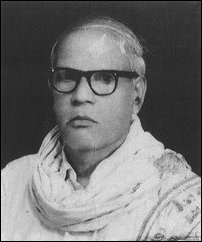 Arunachalam Nagalingam [25.02.1901 - 19.03.1979] of Champantharka'ndi, Kaarainakar
Naakamuththup Pulavar of Kaarainakar, Madras High Court lawyer R. P. Sethuppillai (later, Professor of Tamil, University of Madras), Hindu Organ Editor M.V. Thirugnanasampanthappillai (pioneer Eezham-Tamil short story writer, under the name Sampanthan, who himself wrote a novel touching the issue of migration to Malaya almost at the same time), Historian of Jaffna, Mudaliyar C. Rasanayakam and St. Patricks College Head Tamil Teacher, V.S. Rasa Iyanaar have given foreword to the publication.
Newspapers, Lohopakari of Chennai, Kalikaala-theepam and Tamil Nesan of Kuala Lumpur came out with review notes on the novel in 1928.
Chillaiyoor Selvarasan in his pioneer book on modern Eezham Tamil writings has made a note on this novel that this was the first Eezham Tamil novel published with pictures. There are 11 plates of line drawings in the book.
In 1975, when the author was alive, Mallikai monthly in Jaffna interviewed him.
However, it seems, the copies of the novel is not available in any of the archives in Singapore and Malaysia today.
A very valuable recent publication "Legacy of the Pioneers, 125 Years of Jaffna Tamils in Malaysia," brought out in Kuala Lumpur in 2006, also doesn't give any information on this novel. Obviously, the novel or even information of the novel was not available to the compilers.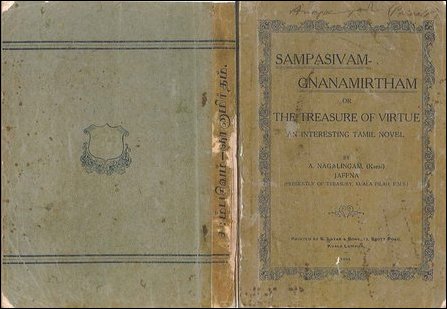 Cover of the book published in Kuala Lumpur in 1927
PDF: Sampasivam – Gnanamirtham in PDF (360 pages)
The main character of the novel, Sambasivam, brought up by his poor widowed mother in Jaffna, and studied only up to 5th standard, goes to British Malaya alone, at the age of 12 to find livelihood.
His mother, after selling her jewellery for 60 rupees, arranges his travel with a marriage broker, whose job was to find young brides to the affluent in the diaspora. But Sambasivam is left to himself after landing in Malaya.
Through honesty, sincerity and hard work Sambasivam comes up in life, educates himself and becomes a teacher in Tamil and English. He also becomes a social activist.
The idealist Sambasivam attracts the daughter of his mentor, Gnanamirtham, who is determined to marry him and after many dramatic events they get married.
Sambasivam returns to Jaffna to work for his native land.
Apart from dealing with typical social issues of those days such as caste, dowry, child marriage, widow-remarriage, alcoholism, bribery etc, the novel goes further into discussing the importance of education, women's education, importance of print media, civil society institutions, cooperative movement and development of agriculture and industries in the society.
Some of the issues the novel deals with, such as the inability in the society to differentiate between modernisation and westernisation, the need to maintain family relations in diaspora life and the contempt shown by some in the diaspora towards learning Tamil, seem to be still relevant.
"Mama (uncle), I hate Tamil," says a diaspora child in the novel.
Many of the Jaffna Tamils who went to British Malaya and Singapore were professionals who received English education from the elite schools of Jaffna. The first generation thought that speaking English at home was prestigious as well as a vehicle for upward social mobility. The language was lost in home itself from second and third generations onwards for Jaffna Tamils, while it is better preserved among the Tamil migrants from Tamil Nadu.
Front page of the book in Tamil
The life of Mr. Nagalingam was analogous to the novel he wrote.
Born in Sampantharkandi in Kaarainakar, Jaffna, in 1901, as the third child to Kanapathippillai Arunachalam, Mr. Nagalingam, after schooling at American Mission Tamil and English schools in Kaarainakar as well as at Kaarainakar Hindu College, went to British Malaya before he was 19. He also studied at King Edward VII School at Taiping and joined the Treasury of Malaya as a clerk at the age of 19.
His father was a farmer as well as a bullock-cart trader who used to take commodities from Kayts harbour and trade them by going up to Kandy. He was also a social worker, contributed to the renovation and building of the Aiyanaar shrine of the Kaarainakar Sivan Temple in the 1930s.
Nagalingam's inspiration to go to Malaya was a relative of him T. Govindasamy of his village, who was a contractor in Kuala Pilah.
Even though The Legacy of the Pioneers has no information on the novel, it comes out with two brief notes on Mr. A. Nagalingam that he came to Malaya with his uncle T. Govindasamy and contributed to build the Kanthasamy Temple at Kuala Pilah (P.73 and 234). The facts are correct but the dates given there, perhaps associated to Mr Govindasamy, are not applicable to Mr. Nagalingam.
A letter written in 1921, from Port Dickson by Mr. Nagalingam's future Father-in-Law Mr. R.V. Alagacone to his son, shows that Nagalingam was a Gandhian at that time and he was also inspiring others to wear Kathar (hand-made native textiles).
Mr. Nagalingam was a founder member and manager of a Tamil school in Kuala Pilah, records R. Nagaratnam, a former state councillor of the Negeri Sembilan state of British Malaya.
In writing an obituary later, Kalaiyarasu Sornalingam, regarded as the pioneer of Eezham Tamil drama, records that Nagalingam was also a good actor, staging dramas in Malaya.
Nagalingam met his wife Amirtharatnam in Malaya. Her family was of Urumpiraay and Navaali connections. Their marriage was a love marriage. It is said that he was in love when he wrote the novel. Note the affinities between Amirtha-ratnam and Gnana-amirtham, the character he created.
All the siblings of Mr. Nagalingam subsequently went to Malaya.
During World War II, the Japanese Administration shifted him from Treasury chief clerk to hospital manager.
We come to know that during this time he was translating the speeches of Subhas Chandra Bose into Tamil. Savarkar's "The Volcano" (on 1857 Sepoy Mutiny), reproduced by the Japanese in Malaya, which was later banned by the British, and newspapers as well as documents of the Indian Government formed by Subhas Chandra Bose in Singapore, were found among Mr. Nagalingam's personal belongings which he brought back to Jaffna.
"It is significant that my uncle the late Mr. A. Nagalingam had been a regular subscriber to the leading standard journals like the Madras Hindu, The Indian Review, The Modern Review and Visva Bharathi of Rabindranath Tagore, as early as 1927, and had been a keen student of the Indian Independence struggle of the Indian National Congress, and a close follower of Indian politics; and this was, I believe an anticipation of and a precursor to his involving later in the Indian Liberation Movement in Malaya led by Netaji Subhas Chandra Bose, and addressing many large mass gatherings under its aegis," says Mr. N. Kanaganayagam who was earlier with him in Malaya and later wrote his obituary in 1979.
Nagalingam returned to Kaarainakar in 1947 two years after the war ended. Two of his seven children were born after his return.
As a Malayan pensioner, he devoted the rest of his life to social work in Jaffna. He was a member in many of the social, cultural and religious associations of his time and was joint secretary for renovating the Kaarainakar Sivan Temple in 1968.
The temple tank he renovated in the1920s from the sales of his novel is still in good shape. Many of the children of the locality learnt their swimming in that tank.
[The original book in print produced herewith in PDF form is its author's personal copy found with his signature and newspaper clippings about the book attached to it. He gave the copy to one of his grandchildren towards the end of his life. The book is released here for research and documentary purposes with kind permission from the family members of the author.]
PDF: Sampasivam – Gnanamirtham in PDF (360 pages)
(For updates you can share with your friends, follow TNN on Facebook, Twitter and Google+)