Jewish Conservative MPs in UK voice against Tamil Genocide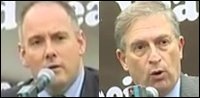 "Tamils deserve freedom, they deserve dignity and they deserve their independence, as they want. That is the right of any nation on earth. It is the right for the Tamils too," said Conservative MP Robert Halfon from Harlow, who addressed the participants at the London event of Mu'l'livaaykkaal Remembrance Day. Meanwhile, Lee Scott, a Conservative Member of Parliament for Ilford North, and an officer of the Conservative Friends of Israel group, said it was unacceptable for people not to know what had happened to their relatives, children and not to be able to live in peace and harmony with dignity. "I recently met with the SL High Commissioner and asked these questions. And I will continue to ask these questions," he said and signed an appeal on the stage urging independent international investigations.
Halfon questioned the international attitude: "Why is that the people across the world, in the Middle East, are crying out for freedom, demonstrating, and the world is looking on and is supporting them in some ways, and yet when the Tamils cry out for freedom and Tamils are murdered and detained in hundreds of thousands, why is that the world does nothing," Halfon said that this attitude has to stop.
"As a Jewish person, all I can do is to support Nations who have suffered from Genocide," Halfon said adding that the UN report was the first international recognition for Tamils plight because for the first time it had acknowledged the numbers of those who were murdered.
"You have to judge the Sri Lankan government by the company they keep. It is no accident that Sri Lanka is one of the most pro Gadaffi in the world. It is no accident that the Sri Lankan President offered Gadaffi a haven. Well, he is welcomed to it as long as Gadaffi doesn't come to the Tamil part of Sri Lanka," Halfon said.
(For updates you can share with your friends, follow TNN on Facebook, Twitter and Google+)