Eezham Tamil poet gets India's National Film Award for acting
Well known Eezham Tamil poet VIS Jayapalan received Special Jury Award (national level) at the 58th National Film Awards of India, held on Thursday, for his performance in the Tamil film Aaduka'lam. The 67-year-old poet and writer acted the role of a cockfight ringleader in the film. The achievement is extraordinary for a debut actor, film critics said. "With a face carved out of teak and leather the patriarch of a cock-fighting clan stands like a colossus, even when he feels his power and authority ebbing through his fingers," reads the citation he received at the film award. Born in a family of Uduvil and Delft connections at Uduvil in Jaffna, and graduated from the University of Jaffna, Shanmugampillai Jayapalan presently lives in Norway as a member of the Eezham Tamil diaspora.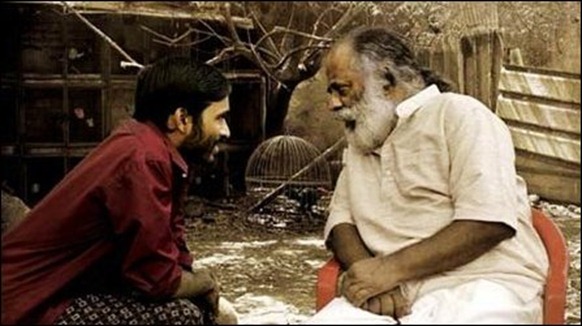 Actor Dhanush [left] and VIS Jayabalan [right] from a scene in Aaduka'lam
Aaduka'lam, the film he acted fetched the "Golden Lotus" Best Director national-level award and Best Screenplay Writer award for its director Vetrimaaran, Best Actor award for Dhanush, the main character in the film, Best Editor award for Kishore Te and Best Choreography award for Dinesh Kumar.
Jayapalan's poetry and short novels are among prescribed textbooks in the universities and colleges of Tamil Nadu. He received the best immigrant writer award from the Norwegian Writers Association in 1995 for a short novel written by him. His poetry, translated into English, was a part of a recent publication from the Toronto University of Canada too.
Jayapalan was student union president of the University of Jaffna in 1977.
(For updates you can share with your friends, follow TNN on Facebook, Twitter and Google+)