Uprooted Champoor Tamils show resolution to get back their land
Uprooted Tamils in Champoor, whose lands were taken away by the Sri Lankan government for India's thermal power project, de-populating the Tamil villages and declaring the area as High Security Zone, managed to secure permission from the occupiers to to hold Vaikaasi Pongkal in several centuries old Champoor Paththirakaa'li Koayil on Sunday. The uprooted Tamils prayed for the blessing of Kaa'i goddess that they should be allowed to resettle without further delay in their home villages and in their houses in Champoor area.
Majority of four thousand uprooted Tamils currently sheltered in camps located at Ki'liveddi, Ma'natcheanai, Paddiththidal and Kaddai-pa'richchaan arrived at Champoor Paththiraka'li Koayil by foot and by other means of transport to hold the Pongkal, expressing their resolve for resettlement in their land.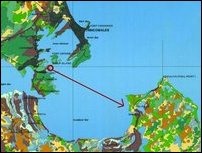 Sections of the Sri Lankan establishment are advocating to shift the proposed coal power plant from the location identified earlier in 2002 near Veppankuda, above the Marble Beach, to Sampoor region on the opposite side of Koddiyar Bay.
Villages Champoor, Choodaik-kudaa, Navaratnapuram, Koonith-theevu and Kadatka'raich-cheanai are in the Sri Lanka Army occupied High Security Zone.
Champoor is a large and populous fishing village overlooking Trincomalee port.
The SL military seized Champoor from the Liberation Tigers of Tamil Eelam (LTTE) after heavy fighting that left at least 350 civilians dead and hundreds injured and depopulated the area.
Later, Colombo declared Champoor a High Security Zone, making it out of bounds for civilians, most of whom were forced to live in refugee camps in the neighbouring district of Batticaloa and later sheltered in so-called welfare centres in Ki'liveddi, Ma'natcheanai, Paddiththidal and Kaddaipa'richchaan.
These uprooted Tamils now live in temporary huts. These 'welfare centres' are not provided with adequate water supply and sanitary facilities. Hence the inmates undergo immense suffering in running their day to day life.
(For updates you can share with your friends, follow TNN on Facebook, Twitter and Google+)