Occupying SL Navy confiscates lands for new HSZ in Ma'ndaitheevu
More than 40 acres of private land, including Saiva temples and their tanks, have been recently confiscated by the occupying Sri Lanka Navy in Ma'ndaitheevu island off Jaffna city to build a naval base and to expand the High Security Zone (HSZ) in that island. Sri Lanka occupying the country of Eezham Tamils denies the existence of High Security Zones in the north. Presidential sibling Basil Rajapaksa addressing a meeting in Jaffna last month said that there are no High Security Zones, but the entire island is a 'peace zone'. The creation of a new HSZ in Ma'ndaitheevu contradicts Colombo's claim that de-mining is the reason why it is not allowing the resettlement of the HSZs in Jaffna by the owners of the lands.
Occupying Sri Lanka's position about the Valikaamam HSZ, where 26 villages are still not allowed for resettlement, is that they are yet to be de-mined and that there are no other reasons as there is nothing called HSZ in the island.
The new HSZ in Ma'ndaitheevu for the SL Navy is now being laid out with embankments and barbed wires built around the confiscated lands of the people.
Ma'ndaitheevu Islet is located at an entrance from the Palk Bay into the Jaffna lagoon. This entrance directly facing the Jaffna city lies between a sandbar stretching from Poonakari in the main island and the islands off Jaffna, thus controlling the sea movements towards the city as well as towards the main island.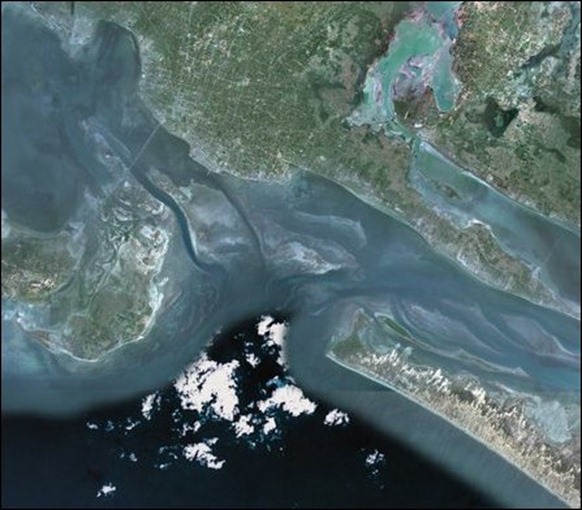 Ma'ndaitheevu islet is on the left of the entrance from Palk Bay into Jaffna Lagoon seen in the image. On the right is the sandbar stretching from Poonakari of the main island of Sri Lanka. The Jaffna city is on the north, linked by a causeway. [Image courtesy: Google Earth]
(For updates you can share with your friends, follow TNN on Facebook, Twitter and Google+)