Sri Lanka anti-terror seminar faces boycott call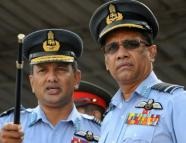 A leading human rights group urged governments on Tuesday to boycott a conference on fighting insurgents organised by Sri Lanka, which wants to share its experience of defeating separatist militants.
Sri Lanka will host the three-day meeting "Defeating Terrorism – Sri Lanka Experience" in the capital Colombo next Tuesday and has invited 54 countries of which 42 have agreed to attend.
China, Russia and South Asian nations Bangladesh, India, Maldives and Pakistan are among those who will send military delegations, while Western nations have decided to stay away, Sri Lanka's army chief said on Monday.
"This conference is nothing more than a public relations exercise to whitewash abuses," Human Rights Watch's Asia Director Brad Adams said in a statement.
"No professional, law-abiding military should take part in this farce," he added.
International rights groups have accused Sri Lankan forces of killing thousands of civilians and blocking humanitarian access to the affected population during the climax of its battle with Tamil separatists in 2009.
The outlawed Tamil Tiger group fought for 37 years for a homeland for ethnic Tamils before being crushed in a giant government offensive that has since been dogged by war crimes allegations.
Among those who declined to send military delegations were the United States, Britain, France, Australia and Switzerland — all of whom have criticised Colombo over alleged rights abuses.
Sri Lanka's top arms supplier, China, is co-sponsoring the conference and two Chinese companies will also exhibit military hardware on the sidelines.
The meeting is being held amid mounting pressure for a war crimes investigation after a panel appointed by UN Secretary General Ban Ki-moon said last month that there were "credible allegations" against Sri Lankan troops.
(For updates you can share with your friends, follow TNN on Facebook, Twitter and Google+)