Ban's leadership questioned on handling Sri Lanka war-crimes report
Inner City Press (ICP), a widely known advocate in seeking clarifications to the United Nation's questionable actions towards Sri Lanka's alleged war-crimes accountability, reported Friday that United Nations Secretary General, Ban Ki Moon, when "urged by the UN Panel of Experts on Sri Lanka to establish an investigative mechanism, Ban claimed he couldn't do so without a vote by the General Assembly, Security Council or Human Rights Council." But when ICP questioned the President of the General Assembly Joseph Deiss about the Sri Lanka Report, Deiss has reportedly said "[i]t's for the Secretary General to handle this case," exposing UNSG's perceived duplicity in not being assertive in seeking accountability for crimes widely reported as war crimes and crimes against humanity bordering on genocide.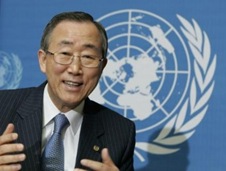 "So Ban says it's up to the General Assembly, but the head of the General Assembly says it's up to Ban. This is called passing the buck," ICP's Matthew Lee reported.
Further, ICP said that the U.S. Mission to the United Nations has not provided a response to ICP's questions on the recent letter by worlds premier human rights organizations to the key U.S's prominent foreign policy shapers on genocide and war-crimes, including Secretary of State Hillary Clinton, US Ambassador to the UN Susan Rice, Samantha Power, Robert Blake, Esther Brimmer, Eileen Donahoe, Harold Koh, Michael Posner, Stephen Rapp and others.
pdf: Rights groups' letter to Secretary Clinton
Eleven prominent Rights Groups including Carter Center, Amnesty International, Human Rights Watch, and International Crisis Group, in a letter to US Secretary of State, Hilary Clinton, urged the US to "take advantage of the opportunity of 17th session of the U.N. Human Rights Council to highlight the need for effective accountability in Sri Lanka for war crimes and other abuses committed by both sides." The communication pointed to conclusions of the war-crimes report by the UN panel of experts that "tens of thousands were killed in the final months of the war…" and called for "establishment of an independent international mechanism with a mandate to conduct investigations into alleged violations of international humanitarian and human rights law, including war crimes."
(For updates you can share with your friends, follow TNN on Facebook, Twitter and Google+)