Seeman's Marriage Plans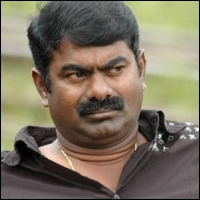 Director Seeman has been in the news a lot recently and not exactly for the best of reasons. Actress Vijayalakshmi has decided to take him to court for allegedly reneging on a promise to marry her after a relationship that lasted for three years. Seeman responded by suing her for defamation to the tune of nearly 5 crores!
In the meantime, Seeman has declared that he will be marrying one Yalmathy, a Sri Lankan native. The director met her there and decided to marry her however, she is missing it seems. Apparently, she was working for the LTTE as was her deceased husband. After the Eezham war, nobody can account for her whereabouts. Seeman has initiated the search process and will marry her when or if he finds her.
(For updates you can share with your friends, follow TNN on Facebook, Twitter and Google+)