On Sri Lanka, Ban Hasn't Moved to Review Actions of UN & Nambiar, Get Rajapaksa Support for 2d Term
In the past forty days, Ban Ki-moon has apparently done no review of Sri Lanka after he said on April 25 that he would act on the Panel of Experts' recommendation for a "review of the United Nations' actions regarding the implementation of its humanitarian and protection mandates during the war in Sri Lanka – particularly in the last stages."
  Inner City Press asked Ban if he supports the call by Navi Pillay for a independent probe into the war crimes alleges in the Panel of Experts report on Sri Lanka, and what action he has taken on the above quoted recommendation for a review of the actions of the UN and Ban's own chief of staff Vijay Nambiar, particularly in connection with assurances given to surrenderees who were then killed.
  Ban said it is up to member states, and did not answer the second part of the question. He said he continues to wait for Sri Lanka's response, checking every day, he said.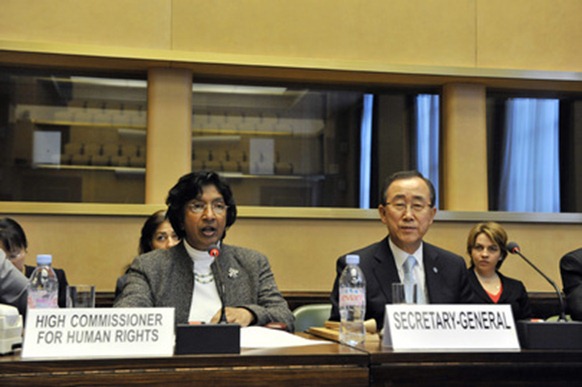 Pillay & Ban previously in Geneva, Sri Lanka Report not shown
These answers were given at a press conference in which Ban announced that he had met with the Asia Group and they support him for a second term as UN Secretary General.
After Ban's press conference, Inner City Press interviewed a Deputy Permanent Representative who attended the meeting. He said that no vote was taken, but rather "acclamation." Inner City Press asked if Sri Lanka spoke, and the DPR said yes. So, the Rajapaksa government now supports Ban for a second term. Draw your own conclusions.
From the UN's June 6, 2011 transcript:
Inner City Press: You commissioned that Panel of Experts report; then you said that you couldn't do any investigation unless an intergovernmental body orders you to. Ms [Navenethem] Pillay has said that such a body should be set up. Do you follow in that? And what steps have you taken on this idea that you would review the UN's own performance in the final stages of the conflict? Even your Chief of Staff has been described in a still murky incident of the killing of surrendering fighters. So I was wondering: have you taken any steps in the forty days since you said that to do that?

SG Ban Ki-moon: You must have read all the recommendations of the Panel's report. Most of the recommendations of the Panel's report concern steps which the Sri Lankan Government needs to take. Beyond what I can do within the UN to review its actions during the final stage of conflict, much will depend on the Government of Sri Lanka and the Member States who have been studying this report. Addressing the issue of accountability will be an essential step towards lasting peace and stability in the country. And I will continue to discuss this matter with the Sri Lankan leadership so that they will implement fully the recommendations in this Panel's report. First and foremost, proper action is needed to be taken by the Sri Lankan Government. That's what the international community really wants. Again, another one is that I am still awaiting the response of the Sri Lankan Government. I am checking almost every day, every week so that they will send their response as soon as possible. That can give me further review on their response.
(For updates you can share with your friends, follow TNN on Facebook, Twitter and Google+)