Sri Lanka Tamil MPs 'beaten up by troops'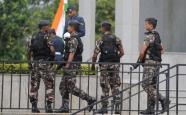 Sri Lanka's main minority Tamil political group on Friday accused army troops of assaulting its lawmakers and breaking up a party meeting on the northern peninsula of Jaffna.
The Tamil National Alliance (TNA) said troops stormed their venue on Thursday evening and attacked members of parliament and party supporters who were discussing local elections next month.
Soldiers used poles to beat up people at the meeting, the TNA said in a statement, adding that others in civilian clothing assaulted the police bodyguards of the opposition lawmakers.
"Several soldiers in full uniform, carrying automatic weapons and long poles in their hands, rushed into the hall and started assaulting the people," the statement said.
"About 30 of them were led by an officer who wore T-shirt and army fatigue trousers and boots."
The TNA has been vocal in its criticism of the Sri Lankan military and accused it of war crimes in the final months of the island's civil war, when troops defeated the Tamil separatists in 2009.
Western nations, neighbouring India and the UN have called on Sri Lanka to probe allegations of war crimes and take steps to reconcile the minority Tamil group with the Sinhalese majority.
Tamil rebels took up arms in 1972 after accusing the Sinhalese-led government of discriminating against Tamils in jobs and education.
The country's armed forces are dominated by Sinhalese, but military spokesman Major General Ubaya Medawela said he was unaware of any military involvement in Thursday's incident, adding police had begun an investigation.
(For updates you can share with your friends, follow TNN on Facebook, Twitter and Google+)