Tamils deported from UK reach Sri Lanka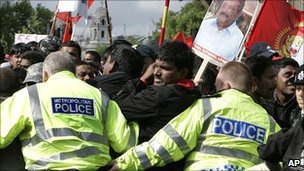 Several dozen Sri Lankans deported by the UK have arrived back in Colombo on an overnight charter flight.
A BBC reporter outside the airport and sources inside confirmed that their plane had touched down.
International human rights groups have criticised Britain for deporting them, saying the mainly Tamil asylum seekers may not be safe on their return.
Before their departure, the UK Foreign Office said it would not comment on the flight operation for security reasons.
The Sri Lankans were deported from the UK on a chartered flight which left London on Thursday.
The Tamils affected told the BBC on Wednesday that their lives were in danger.
Earlier, human rights groups Amnesty International and Human Rights Watch urged the UK not to deport Tamils to Sri Lanka, warning that they face the risk of being tortured.
Amnesty said that at least one of the failed asylum seekers had tried to commit suicide on Wednesday night at an airport detention facility.
The human rights organisation says that it has "documented the endemic use of torture in Sri Lanka and a culture of impunity prevails".
'Desperate'
British immigration authorities have refused to comment on the deportations in detail.
However, Immigration Minister Damian Green said on Thursday that the UK "takes its international responsibilities seriously and considers each claim for asylum on its individual merits".
The Home Office added that it only undertakes returns to Sri Lanka when it is satisfied that the individual has no protection needs.
But the issue was also raised in the UK parliament on Thursday.
Labour MP Siobhain McDonagh said that two of the Tamils concerned were her constituents. One, who she named as Jenach Gopinath, was formerly employed by a leading Tamil MP who has subsequently been arrested and detained by the Sri Lankan authorities.
"They are desperate and understandably so," she said.
She said that the Tamil who allegedly tried to commit suicide did so with a prison duvet and had to go to hospital.
He is believed to be a 30-year-old man who served with the Tamil Tigers. The man told the BBC's Tamil service on Wednesday that his life would be in jeopardy if he was sent back.
One elderly woman is also among those who were asked to pack their bags.
Earlier this week, Britain's Channel 4 showed what it said were extrajudicial killings of Tamils.
Sri Lanka's defence ministry dismissed the videos as fabricated, saying they were intended to discredit the army.
(For updates you can share with your friends, follow TNN on Facebook, Twitter and Google+)