What's on Anushka Shetty's wishlist?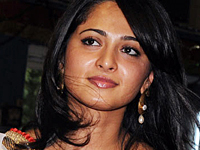 Anushka Shetty has awed not just the audience but also the film industry with her varied performances in various languages, and for the way she successfully juggles between them.
The actress is appearing in her first ever de-glam role in Kollywood, shortly, through 'Deiva Thirumagal' opposite Vikram and has two other Telugu movies in her kitty.
Anushka who hails from Karnataka was spotted at Bangalore, where she came to watch a Kannada movie 'I am Sorry Mathe Banni Pritsona'. She expressed that she liked this Kannada flick that stars Premkumar, Karishma Tanna and Sanjaana.
So what does she have to say about the rumours that were doing the rounds about her engagement to Telugu star, Naga Chaitanya?
"I was at the dinner table with my parents in Bangalore when the rumours of my engagement to Naga Chaitanya came up. My parents have understood me well. Rumors should be laughed at. I was even told that I am getting engaged to Naga Chaitanya's father Nagarjuna," says the sportive heroine.
Anushka also expressed that she is looking for a good script in Kannada and in Hindi to make her debut in the respective industries. "This time I came to Bangalore to watch the movie 'I am Sorry Mathe Banni Pritsona….' It is a beautiful film. Director Ravindra is my friend. I look forward to play in a beautiful script like this," she signs off.
IndiaGlitz – What's on Anushka Shetty's wishlist? – Tamil Movie News
(For updates you can share with your friends, follow TNN on Facebook, Twitter and Google+)