Left Front protests against SLA attack on TNA in Jaffna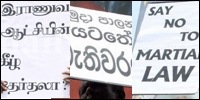 The Left Front, led by Vickramabahu Karunaratne, on Friday staged a protest in Colombo against the attack on Tamil National Alliance election meeting in Jaffna. The attack on TNA meeting, carried out by an SLA contingent that was led by a Sri Lanka Army Colonel and two Major rank officers, was a "planned attack with a political directive from the top," Dr. Karunaratne alleged. United Socialist Party, Socialist Party, Democratic Peoples Front (DPF) of Mano Ganesan and the Tamil National Alliance took part in the protest.
"The workers in the south are now prepared to fight back. There are struggles in all sectors including the university professors," Dr. Karunaratne said.
The demonstrators carried placards against what they labelled as "martial law in North".
The elections in Jaffna are going to be held under martial law. It is therefore important to fight back, calling to repeal the Prevention of Terrorism (PTA) and Emergency Regulations, the demonstrators said.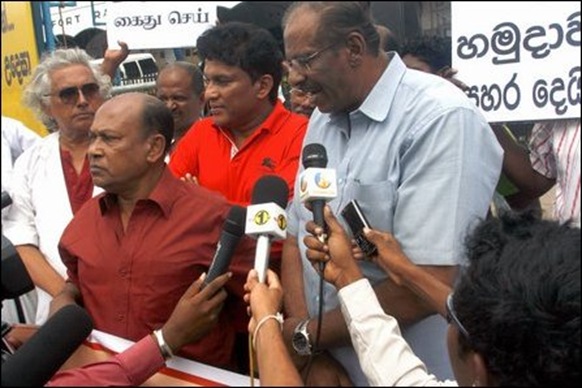 Tamil and Sinhala politicians in demonstration organised by the Left
(For updates you can share with your friends, follow TNN on Facebook, Twitter and Google+)