On Sri Lanka, Ban Won't Push to Get UN Heyns In, Have Been Given Killing Fields, Will Watch if Has Time, Ranil on July 5?
Despite UN Secretary General Ban Ki-moon's statements that he is "checking every day" to see if the government of Mahinda Rajapaksa in Sri Lanka has deigned to respond to the UN Panel of Experts report documenting war crimes, there is very little follow-through.
  On June 30 Inner City Press asked Ban's acting deputy spokesman Farhan Haq if Ban has done anything about Sri Lanka blocking the visit requested by UN Special Rapporteur on extrajudicial executing Christof Heyns, who has said "I have asked to visit Sri Lanka, but this has so far been denied."
  Haq couldn't not say anything that Ban has done or even tried to do in this regard, instead "referring" the questions to the Office of the High Commissioner for Human Rights in Geneva.
  Heyns authenticated video used in the Killing Fields documentary, saying that the "video that I have examined in detail shows textbook examples of extrajudicial killings — naked, blindfolded people whose hands are tied, are being shot through the head by people in military uniform. They speak Sinhalese. This clearly raises major concerns that cannot be ignored by someone tasked to investigate arbitrary executions."
  For more than two weeks Inner City Press has asked Ban's spokespeople if he has taken the time to see the Killing Fields video.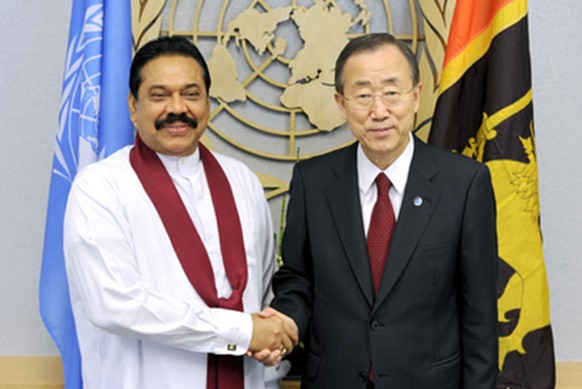 Ban & M. Rajapaksa Sept 2010, Killing Fields not shown
The first answer was that he was traveling.
  On June 30 when Inner City Press asked, Haq replied that "we have actually shared the video with the Secretary General. When he has time, we expect that he'll see it."
(For updates you can share with your friends, follow TNN on Facebook, Twitter and Google+)