Prabhu Deva postpones divorce?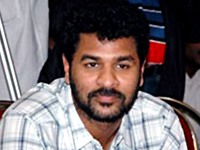 Yesterday saw some disappointment in a Chennai court. The disappointment was for some scribes, who were patiently waiting for the director-actor-choreographer, Prabhu Deva to come for the final hearing so that they could drill him with questions pertaining to his future and the impending wedding to Nayanthara.
Prabhu Deva was reported to marry Nayan when his current wife Ramlath sought law to intervene and issue a stay order for the marriage between the actress and the choreographer. Later a divorce was filed and June 30 was declared the day for final hearing for the two parties.
But, both the parties lawyers were only present, who presented reasons for their clients to not be able to present physically for the hearing. While Prabhu Deva's barrister sighted that his client was not in town, Ramlath's lawyer cited that her absence was due to one of her children falling sick.
We are sure you also do remember that Nayan had said she was quitting her career as an actress to marry Prabhu Deva and then there were some rumours that she is Bollywood bound. But we do not have any confirmation from the side of the lady in question regarding her future plans.
Well for now all we can say is that the judge has postponed the hearing to July 10. We guess we will know what the future holds for Prabhu Deva and Nayan on this day, that is if both the parties are present and ready to dissolve their marriage.
(For updates you can share with your friends, follow TNN on Facebook, Twitter and Google+)