An Image Is Flipped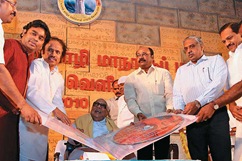 The self-assigned label of "protector of Tamils" worn by M. Karunanidhi, former chief minister and DMK supremo, is no longer finding endorsement among those fighting for the Tamil cause. In fact, he is drawing criticism ranging from the mild—"he loves Tamil only in word, not in deed"—to the harsh—"he's a betrayer of the Tamil cause". His farcical fast against the genocide of Tamils during his term as chief minister—he'd said, "Let me become one of Sri Lanka President Rajapakse's victims, it will be my sacrifice on behalf of all Tamils"—and such other actions have led to the perception that he's an opportunist who clung to power while selling out the Tamil cause.
But has he ceded his "protector of Tamils" tag, along with chief ministership, to J. Jayalalitha. The latter piloted a resolution early this month seeking Indian economic sanctions to rein in Colombo, speedy rehabilitation of displaced Sri Lankan Tamils and bringing charges of war crimes against those who committed excesses during the endgame against the LTTE. For some, Karunanidhi has indeed been toppled from his 'Tamil votary' perch by Jayalalitha. Film director Seeman, arrested several times by the Karunanidhi government, including under sedition charges, is believed to have called Jayalalitha a "guardian deity". Viduthalai Chiruthaigal Katchi (VCK) leader Thol Thirumavalavan, a vocal supporter of the LTTE and of Tamil movements across the world, is quoted as grudgingly giving credit to Jayalalitha for the resolution. Thirumavalavan has reason to be angry with Karunanidhi, for he lost his loyal constituency after having been part of a DMK-led delegation of MPs to Sri Lanka after the war.
D. Ravikumar, a former VCK MLA and Tamil writer, concedes that "there are some qualitative changes in Jayalalitha's approach. The resolution is more assertive and concrete." But he acknowledges that it has symbolic value only, since state governments do not dictate foreign policy. "What's important is what the Centre does about the resolution," he says. "Many nations have condemned what Sri Lanka did, but India hasn't. There's no change at the Centre, and without change there, nothing can be done."
Pazha Nedumaran, who founded the Tamil National Movement in 1979, is an acerbic critic of the ex-CM. "Karunanidhi," he says, "has no right to call himself the protector of Tamils." Pointing out that Tamil is still not the official language in the government, Nedumaran asks, "He was CM six times. What did he do for Tamil?" He accuses Karunanidhi of organising the World Classical Tamil Conference in Coimbatore in May last year "to divert the attention of the Tamil people, because he knew they were angry with him for doing nothing in Sri Lanka." Of Jayalalitha, he says, "She got the resolution passed unanimously in the Tamil Nadu assembly. She then met the prime minister and followed it up. The ball is in the Centre's court. We'll wait and see."
The Tamil diaspora, which is disillusioned with Karunanidhi, is gushing in its praise of Jayalalitha. "Madam Jayalalitha's initiative in this tough resolution in the assembly has lifted our morale. We will meet and thank her," says Charles Antonidas of the London-based Global Tamil Forum. The Australasian Federation of Tamil Associations has written to Jayalalitha "bowing our heads in gratitude". Even fringe Tamil groups have gone overboard praising Jayalalitha. "We will hold a massive rally in Rameswaram to thank her," says Hindu Makkal Katchi leader Arjun Sampath. The Periyar DK and the Manithaneya Makkal Katchi are among the Tamil organisations keen on anointing Jayalalitha with the "savior of Tamils" title.
Dr A.R. Venkatachalapathy, a Tamil writer and professor at the Madras Institute of Development Studies, feels that disillusionment with Karunanidhi worsened with his flippant remarks. When the Sri Lankan army marched into an area where the LTTE had holed up using about one lakh non-combatants as a human shield, he had said, "After it rains, it continues to drizzle", implying that in war, collateral damage is normal. He blotted his copybook further by rushing to Delhi to fight for cabinet berths for his kin in UPA-II, but never once went there to seek intervention for a cause he claimed was dear to him.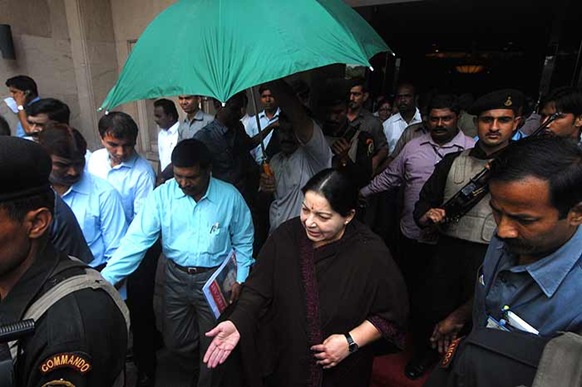 Asserting Herself: Jaya at a press meet in Delhi. (Photograph by Sanjay Rawat)
All the praise being heaped on Jayalalitha, who has so far been praised for her administration and bold decisions rather than as a champion of the Tamil cause, is however countered by some. "Her intervention is opportunistic and cynical," says Geeta V., publisher, Tara Books. "She wants to be one up on Karunanidhi." Afraid of the consequences of Jayalalitha going back to her dictatorial ways, another Tamil crusader says, "The Tamil cause is a free-for-all for political parties and their petty games." Geeta puts things in perspective, saying Karunanidhi's claims to championing the Tamil cause have been challenged by many, including the radical Left and Tamil nationalists. "He was never allowed to get away with proclaiming himself a leader of the Tamils."
Such games of one-upmanship between Jayalalitha and Karunanidhi are legendary and so is their penchant for never giving the devil its due. So much so that when Jayalalitha presided over the resolution, DMK MLAs were absent in the assembly. They used a comment by the Leader of the Opposition, Vijayakanth of the DMDK—"The credit for eliminating the Tamil race in Sri Lanka goes to the DMK"—as a spur to walk out. Karunanidhi protested later in a letter to partymen that he was "unduly criticised" and that Jayalalitha had "deliberately" forgotten that DMK MPs had resigned to protest Sri Lankan action against Tamils and that he had made several appeals to the Centre on the issue. "People know who is enacting a farce on this," he observed darkly.
(For updates you can share with your friends, follow TNN on Facebook, Twitter and Google+)