Sri Lanka Tamil minority still being victimised
(Free Malaysia Today) Malaysian parliamentarians who visited Sri Lanka recently say no efforts have been made at reconciliation or improving the living standard of the minority Tamils.
It has been two years since the civil war ended in Sri Lanka but there has been little effort made in reconciliation and helping the Tamil minority who were the main victims of the conflict.
Teluk Intan MP M Manogaran, Sungai Petani MP Johari Abdul, Selangor Senator S Ramakrishnan and two NGO members made a five day field trip to the island last month and their conclusion is that nothing much has been done to help the victims of the war.
They visited Colombo, Puttalam, Vavuniya, the north and northeast region of Sri Lanka.
"We expected to see some semblance of normalcy but there was none," Manogaran said when relating his experience in Sri Lanka to FMT .
"Access to the many areas in the northern region which was formerly held by Liberation Tigers of Tamil Eelam (LTTE) is controlled by the military.
"Every civil action must receive military approval. Application has to be made via general agent," said Manogaran .
A general agent is like a district officer.
"Every 50 metres I saw the Sri Lankan Army (SLA) armed with sub machine guns. They are some times accompanied by the military police."
Manogaran who met minority Muslims in the Puttalam district said there are no school facilities for children in the internally displaced persons (IDP) camps.
He and the rest of the group also visited Vavuniya that has the largest number of IDP camps.
"They don't even have a proper house. It is either a mud house with zinc roofs or huts with attap roofs.
Wanting freedom

Recalling the conversations that he had with the people he met there, he said: "I was shocked to hear that they did not want money.
"They wanted freedom from the military administration because they did not feel safe.
This, he claimed, is because of the rampant sexual exploitation on the women by the military.
"There are five to six abortions daily in Jaffna Hospital," Manogaran claimed.
"One woman, whom I met, even claimed that she was willing to sleep with the military men if they could guarantee the safety of her family, he added.
The rampant rape of the woman is made worse as there are very few males left.
"The men either died in war, left the  country or are in detention," Manogaran said.
Manogaran said his sources in Sri Lanka believed that there are about 9,000 men unaccounted for. They are believed to be detained by the Sri Lankan army.
He also told FMT that the Sri Lanka government is 'Sinhalanising' Sri Lanka by relocating Sinhala people into Tamil majority areas in the northern region.
"They even build Buddhist temples in areas where they are no Sinhalas," said Manogaran.
Memo to the UN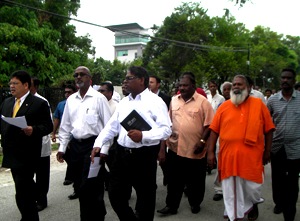 During the five day trip, Manogaran also met with minority lawmakers from the government and opposition parliamentarians.
"They told me that they are unable to do anything. If they were to raise this issue they are branded as anti-national and anti-Sri Lanka."
As for the NGOs, he added, they have to be registered under the Defence Ministry.
Sri Lanka had an internal conflict involving the SLA and the LTTE for over two decades before it ended in May 2009 with the death of LTTE chief, V Prabakaran.
(For updates you can share with your friends, follow TNN on Facebook, Twitter and Google+)