Sri Lanka to analyse war footage of alleged atrocities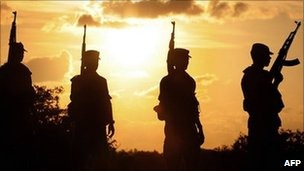 Sri Lanka's government says it is analysing video which it claims proves the falsity of a documentary on alleged atrocities during the civil war.
The documentary showed footage appearing to incriminate the army.
But the government claims it now has evidence of what it calls the original version of footage later used by the British TV station, Channel 4.
It is part of a broad government campaign to discredit the Channel 4 documentary, broadcast last month.
The basis of the government's counter-propaganda against the independent UK-based channel is a segment of footage which appears to show soldiers executing prisoners.
In the video as used by Channel 4, comments were audible in the Sinhala language. The channel said this was evidence that army soldiers were killing rebel Tamil Tiger prisoners.
But a pro-government Sri Lankan channel has now broadcast what it says is the "original" version of the same video. In this, just over a minute long, the soundtrack is in Tamil.
The government earlier ridiculed the video as having been faked, but it says this is fresh evidence that the killers were Tigers in army uniforms.
The video with the Tamil speech was posted online in 2009 but this is the first time it has been aired on Sri Lankan television.
The government's account contradicts that of a senior UN human rights expert, Christof Heyns. He said last week that two independent experts had concluded that both the video and audio of the Channel 4 footage had not been tampered with.
At the same time, the government has been further dissecting the Channel 4 documentary and accusing it of bias.
The top story on the defence ministry website accuses the channel of ignoring the fact that the Tigers had killed thousands of innocent civilians.
(For updates you can share with your friends, follow TNN on Facebook, Twitter and Google+)