In Ban's UN, Press Barred from Photo Op with Sri Lanka Opposition Leader
That UN Secretary General Ban Ki-moon "runs scared," as one of his staffers puts it, more on Sri Lanka than other countries was again on display, but not to be photographed,  on July 5. Ban was to meet with Ranil Wickremesinghe, described in Ban's schedule as "Leader of the Opposition."
But when Inner City Press asked to attend the photo opportunity at the beginning of Ban's meeting with Ranil, the double standards began.
  Only last week, with "Leader of the Opposition" of Israel Tzipi Livni met with Ban, Inner City Press was allowed to go to the photo op, observing the banter between Ban and the Israeli delegation.
  At the July 5 noon briefing, Inner City Press asked Ban's spokesman Martin Nesirky:
Inner City Press: there is this meeting till this afternoon with the opposition leader; I wanted to know, actually I wanted to know whether it is possible if there is going to be any kind of photo op for even the Sri Lankan delegates or UN Photo? And I also wanted to know, just sort of yes or no, if the Secretary-General has now seen the Channel 4 documentary Killing Fields depicting war crimes and somewhat critical of the UN's…?
Spokesperson Nesirky: On the first, UN Photo will certainly be there, and I know that you've already requested to the Media Accreditation and Liaison Unit [MALU]whether you can be present. And I am checking on that. And as for the other, as I think you already heard from Farhan in the last few days, a copy of the film, the documentary has been given to the Secretary-General. I don't know whether he has had the time to see it yet. But as I have told you before as well, he has been fully briefed on its contents.
Shortly after this noon briefing exchange, Inner City Press was informed by MALU that it could not attend the photo op. While Nesirky told MALU he would ask UN Photo to put the Ban and Ranil photo online shortly after the meeting, as of 7 pm on Tuesday the photo was not up — unlike the UN's own Livni – Ban photo.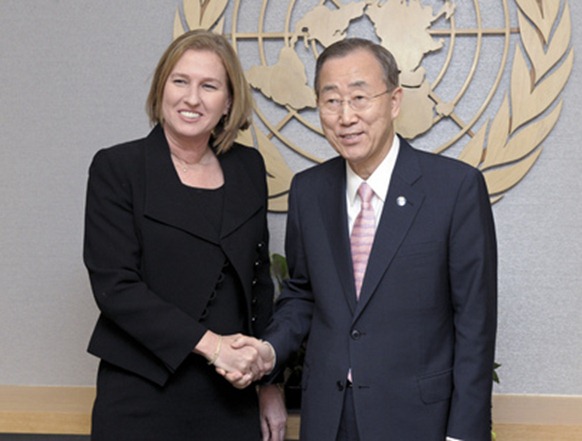 Ban & Israel "Opposition Leader" Livni June 29, Ranil July 5 not shown
Inner City Press waited downstairs from the meeting. Ranil and his escort, Deputy Permanent Representative Shavendra Silva, never walked through any public area of the UN. Instead, going up at 3:30 pm were Ban's top lawyer (who refuses to speak with the press) Patricia O'Brien and the UN staffer who accepted a Tamil petition earlier this year then asked that his name not be published.
What is wrong with Team Ban on the Sri Lanka issue? Ban's chief of staff was involved in the so-called White Flag killings of surrenderees. Does that explain it? Or is there more?
(For updates you can share with your friends, follow TNN on Facebook, Twitter and Google+)