SRI LANKA: Mass protest against murders of seven women in Kahawatte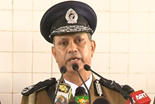 According to reports yesterday, July 5, 2011, about 2,000 persons from the Kahawatte area participated in a protest demanding the removal of the police working in the area. The reason behind this protest is the inability of the police to effectively investigate the murders of seven women who were killed in separate incidents. The people fear that the failure of the police to bring the persons behind the murders to justice could result in more innocent people becoming victims.
The failure of the police to investigate crimes is a common complaint throughout the country. The excuse generally offered by the authorities is that, in the past the police were used for counter-terrorism and therefore there has been general deterioration of the standards of the police.
Despite such admissions, there appears to be no attempt to correct this situation, except for vague promises of improving the quality of police education at the police training college. People faced with such crimes as murder are unlikely to be satisfied with promises of the bettering of the performance of the police at some time in the future. The people need action now!
In the past the Sri Lankan police have proved themselves capable of investigating murders. How has that capacity been lost?
Investigations into serious crimes are not the responsibility of junior police officers but of those who have seniority in rank and experience. Above all, the Officers-in-Charge (OICs) of the police stations and Assistant Superintendents of Police (ASPs) bear responsibility for such investigations. If needed, they can also call on the services of the Criminal Investigation Division (CID).
The next question is as to how the OICs and ASPs lost the capacity to effectively investigate murder in the first place? This is the question that needs to be posed and answered. If one were to go by popular impression, the answer seems to be that OICs and ASPs have other things to do than to investigate serious crimes.
The most attractive aspect of policing in Sri Lanka today is no longer investigation into crime and serving the people. It now appears to be the improvement of one's own position, and to make money. There are many avenues open to senior police officers to do just this which makes worrying about criminal investigations an inconvenience.
Criminal investigation, it appears, is no one's business. Seven women of a small local area being killed should have become a political scandal. However, in dealing with this scandal the authorities are more concerned about damage control rather than trying to arrest the culprits. After the scandal goes away it will be business as usual, meaning that criminal investigation will remain no one's business, as before.
Please also see: SRI LANKA: The challenge for the new IGP is to win the cooperation of his ASPs
# # #
About AHRC: The Asian Human Rights Commission is a regional non-governmental organisation that monitors human rights in Asia, documents violations and advocates for justice and institutional reform to ensure the protection and promotion of these rights. The Hong Kong-based group was founded in 1984.

(For updates you can share with your friends, follow TNN on Facebook, Twitter and Google+)